December 25, 2014
New Predictors of Type 2 Diabetes in Native Americans
the Endocrinology Advisor take:
Seven metabolites can predict the risk of type 2 diabetes in Native American patients, according to a study published in Diabetes Care.
Using these metabolites improved risk prediction beyond established methods of predicting diabetes risk, including BMI, fasting glucose, and insulin resistance, reported Jinying Zhao, MD, PhD, of the Tulane University School of Public Health in New Orleans, and colleagues.
Native Americans have a disproportionately high rate of type 2 diabetes, and researchers wanted to see if they could identify new metabolic markers that indicated these patients' diabetes risk.
The study included 2,117 normoglycemic Native Americans from the Strong Heart Family Study, followed for an average of 5.5 years. The researchers used an untargeted high-resolution liquid chromatography-mass spectrometry to conduct metabolomics analysis of each participant who developed incident diabetes (n=133) and those who did not (n=298).
The researchers found five known metabolites and two new ones that significantly predicted the risk for developing type 2 diabetes. One metabolite matching 2-hydroxybiphenol significantly increased the risk of developing diabetes, while four other metabolites were associated with a decreased risk. Together, these 7 metabolites provided a more accurate risk prediction than established risk factors alone.
These results indicate that these metabolic markers can be used as prognostic markers for this at-risk population.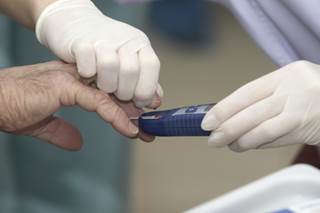 Seven metabolites have been identified as predictors of diabetes risk in Native Americans.
RESULTS Seven metabolites (five known and two unknown) significantly predict the risk of T2D. Notably, one metabolite matching 2-hydroxybiphenyl was significantly associated with an increased risk of diabetes, whereas four metabolites matching PC (22:6/20:4), (3S)-7-hydroxy-2′,3′,4′,5′,8-pentamethoxyisoflavan, or tetrapeptides were significantly associated with decreased risk of diabetes. A multimarker score comprising all seven metabolites significantly improved risk prediction beyond established diabetes risk factors including BMI, fasting glucose, and insulin resistance.
CONCLUSIONS The findings suggest that these newly detected metabolites may represent novel prognostic markers of T2D in American Indians, a group suffering from a disproportionately high rate of T2D.
Sign Up for Free e-Newsletters
Check out what's trending
CME Focus