November 26, 2014
Yogurt May Help Stave Off Type 2 Diabetes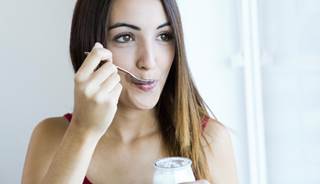 Yogurt May Help Stave Off Type 2 Diabetes
(HealthDay News) — Eating a serving a day of yogurt may lower the risk for developing type 2 diabetes, according to new research published in BMC Medicine.
Frank Hu, MD, PhD, a professor of nutrition and epidemiology at the Harvard School of Public Health in Boston, and colleagues pooled the results of three large studies that tracked the medical histories and lifestyle habits of health professionals: the Health Professionals' Follow-up Study of 51,529 male health professionals; the Nurses' Health Study, which included 121,700 female nurses; and the Nurses' Health Study II, which followed 116,671 female nurses.
During the study follow-up, there were 15,156 cases of type 2 diabetes. When they looked at total dairy intake, the researchers saw no effect on the risk for diabetes. However, when they zeroed in on yogurt, they found one serving a day was linked with a 17% reduced risk.
The researchers next pooled their results with other published studies that looked at links between dairy foods and type 2 diabetes. They found a serving of yogurt a day reduced risk by 18%. The meta-analysis, in which all the results were pooled, included 14 different groups with 459,790 people. About 35,863 developed type 2 diabetes.
The researchers accounted for age, BMI and other lifestyle factors.
Hu said they did not differentiate between types of yogurt, whether it was Greek-style yogurt or not, and the fat content.
"The data we have gathered show that yogurt consumption can have significant benefit in reducing the risk of diabetes," Hu told HealthDay. "It's not a huge effect, about an 18% reduction [in risk]."
He added that "yogurt is not magic for curing or preventing diabetes. That's the bottom line and the message we want to convey to our consumers, that we have to pay attention to our diet pattern. There is no replacement for an overall healthy diet and maintaining [a healthy] body weight."
Reference