June 30, 2015
In Diabetes Patients, Low-Calorie Diet May Improve Heart Rate Variability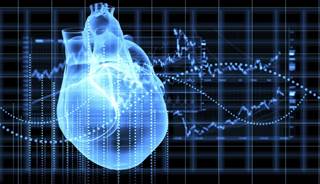 In Diabetes Patients, Low-Calorie Diet May Improve Heart Rate Variability
(HealthDay News) — A low-calorie diet may improve heart rate variability (HRV) in obese patients with type 2 diabetes, according to a study published in Diabetes Care.
Dan Ziegler, MD, from the German Diabetes Center at Heinrich Heine University, and colleagues randomly assigned obese patients with type 2 diabetes to consume either a diet high in cereal fiber, free of red meat and high in coffee (13 patients) or a diet low in fiber, high in red meat and coffee-free (15 patients) for 8 weeks. Measures of HRV and inflammatory markers were assessed.
Both dietary interventions resulted in a mean weight loss of 5 kg to 6 kg, a mean decline in heart rate of four to six beats per minute and improvement in vagally-mediated HRV, the researchers found. However, between the groups, changes in HRV parameters from baseline to 8 weeks did not differ.
Overall, change in HRV was associated with enhanced oxidative glucose utilization (P<.05), but not with insulin sensitivity and inflammatory markers.
"In obese type 2 diabetes patients, energy restriction per se over 8 weeks contributed to improved cardiac vagal function in relation to improved oxidative glucose utilization," the researchers wrote. "This preliminary finding should be verified in a confirmatory trial."
Reference