August 02, 2018
Estimating Risk Factors and Trajectories for Diabetic Polyneuropathy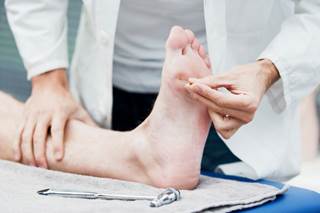 Patients diagnosed with diabetic polyneuropathy were more often men and those who were obese, had higher levels of HbA1c, and had a higher proportion of albuminuria.
According to a recent study published in Diabetes Care, higher baseline levels and steeper slopes of hemoglobin A1c (HbA1c) trajectories appear to be associated with the development of diabetic polyneuropathy in patients with type 2 diabetes.
In this nested case-control study, researchers used linear regression modeling to estimate preceding risk factor trajectories for 452 individuals (median age, 70.9 years) who attended a follow-up examination 13 years after receiving a diagnosis of diabetic polyneuropathy. They then estimated risk via multivariate logistic regression models of each patient's risk factor trajectory intercept and slope.
It was determined that both higher baseline levels of HbA1c and steeper increases of HbA1c over time are associated with a higher risk for diabetic polyneuropathy.
Researchers also evaluated risk factors and assessed for presence of diabetic polyneuropathy at the initial diagnosis, as well as after 6 and 13 years. They found that higher baseline levels of weight, waist circumference, and body mass index were associated with higher risk for diabetic polyneuropathy (odds ratio [OR], 1.20 [95% CI, 1.10-1.31] per 5 kg; OR, 1.27 [95% CI, 1.13-1.43] per 5 cm; and OR, 1.24 [95% CI, 1.12-1.38] per 2 kg/m2, respectively). However, a steeper increase in total cholesterol over time was associated with a lower risk.
Certain limitations to this study were noted, including an inability to pinpoint exact timing of the onset of diabetic polyneuropathy.
Despite its limitations, research said their study indicates that, "the rate of increase in HbA1c affects the development of [diabetic polyneuropathy] over and above the effect of the baseline level of HbA1c even within ranges considered well controlled."
Reference
Andersen ST, Witte DR, Anderson H, et al. Risk-factor trajectories preceding diabetic polyneuropathy: ADDITION-Denmark [published online July 9, 2018]. Diabetes Care. doi: 10.2337/dc18-0392