April 02, 2015
Depression History Linked to Gestational Diabetes
the Endocrinology Advisor take:
Depression may increase a woman's risk for developing gestational diabetes, according to data published in the Journal of Obstetric, Gynecologic & Neonatal Nursing.
"Women with a history of depression should be aware of their risk for gestational diabetes during pregnancy and raise the issue with their doctor," study co-author Mary Byrn, PhD, RN, assistant professor at Loyola University Chicago Marcella Niehoff School of Nursing, said in a press release. "Health care providers also should know and understand the prevalence and symptoms of prenatal depression and gestational diabetes and screen and manage these women appropriately."
In the study, Byrn and colleagues used the Edinburgh Postnatal Depression Screen to measure symptoms of depression in 135 pregnant women — 65 of whom had gestational diabetes — attending routine prenatal care visits.
Results revealed that women with gestational diabetes were 3.79 times more likely to have a history of depression, as compared with women without the disease.
The researchers also found that more women with gestational diabetes than those without the disease had significant symptoms of depression (20% vs. 13%), with anxiety and perceived stress serving as significant predictive factors of depression for both groups.
Recently, researchers have been trying to more closely examine the complicated relationship between diabetes and depression. Initially, it was once thought that people with diabetes developed depression because of the demands the illness places on people's lives. More current study, however, suggests that depression may precipitate onset of type 2 diabetes.
"Depression may also contribute to the poor self-management of gestational diabetes and potentially increase the chance for complications during pregnancy," another study co-author Sue Penckofer, PhD, RN, also a professor at Loyola University Chicago Marcella Niehoff School of Nursing, said in the release. "We must further explore the relationship between diabetes and depression to help understand and improve prenatal care and outcomes for women and infants."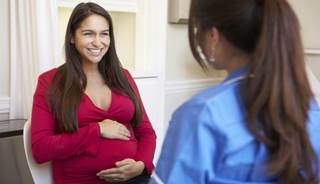 Depression History Linked to Gestational Diabetes
Objective
To determine whether women with gestational diabetes mellitus (GDM) had more symptoms of depression than women without GDM. A secondary aim was to determine if factors predictive of symptoms of depression in women with GDM were different than women without GDM.
Design
A cross sectional, descriptive design was used.
Setting
An outpatient clinic at an academic medical center.
Participants
The sample included 135 pregnant women between 24 and 40 weeks gestation, of which 65 had GDM and 70 did not.
Sign Up for Free e-Newsletters
Check out what's trending
CME Focus