August 02, 2016
Fatty Pancreas Not Associated With Type 2 Diabetes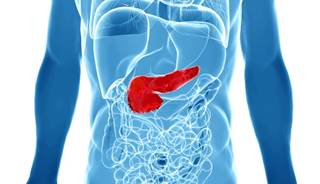 Researchers found no association between fatty pancreas and type 2 diabetes.
(HealthDay News) — After adjustment for confounding variables, fatty pancreas is not associated with type 2 diabetes, according to a study published in Diabetes Care.
Hajime Yamazaki, MD, from Teine Keijinkai Hospital in Sapporo, Japan, and colleagues examined the correlation between fatty pancreas and type 2 diabetes in a cohort of 813 participants without diabetes who underwent health checks by unenhanced computed tomography (CT) scanning in 2008 and 2009. Participants were followed for a median of 5.06 years. The mean pancreatic attenuation was calculated based on measurement of attenuation in 3 regions of the pancreas on unenhanced CT scans, with lower attenuation for more severe fatty pancreas.
The researchers found that during follow-up type 2 diabetes occurred in 7.6% of participants. In univariate analysis, higher pancreas attenuation at baseline correlated with decreased incidence of type 2 diabetes (crude hazard ratio [HR], 0.97; 95% CI, 0.96-0.99); lower pancreas attenuation correlated with increased incidence of type 2 diabetes. After adjustment for confounders, the association was no longer significant (multivariate HR, 1.00; 95% CI, 0.98-1.02).
"Fatty pancreas was not independently associated with future type 2 diabetes," the researchers wrote.
Reference