September 20, 2016
Nap Length Associated With Type 2 Diabetes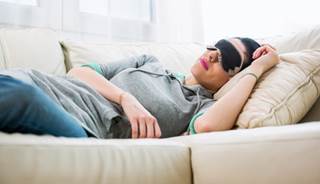 Daytime naps of 1 hour or longer is associated with an increased risk for type 2 diabetes.
Daytime naps of 1 hour or longer have been linked to a 45% increased risk of developing type 2 diabetes and metabolic syndrome, according to research presented at the European Association for the Study of Diabetes (EASD) 2016 Annual Meeting.
Yamada Tomohide, MD, PhD, of the University of Tokyo, Japan, and colleagues performed an electronic database search of studies; eligible studies were quality-assessed using the STROBE statement and the Newcastle-Ottawa Scale. Twenty-one studies were included in the final meta-analysis.
The final meta-analysis included 307 237 Asian and Western participants. Pooled analysis of study data revealed that longer naps (≥60 min/day) significantly increased a person's risk of developing type 2 diabetes, compared with the absence of these factors (relative risk [RR], 1.45; 95% CI,1.25-1.69; P =.03]); shorter naps (<60 min/day) did not present an increased risk (P =.07).
The researchers also conducted a dose-response meta-analysis, and found a J-shaped relation between nap length and diabetes or metabolic syndrome risk; a sharp increase in risk was observed at a nap length of 40 minutes per day. Nap time was not associated with an increased risk of obesity in longer (RR, 1.13; 95% CI, 0.92-1.39; P =.25) or shorter naps (RR, 0.95; 95% CI, 0.88-1.02; P =.15).
Whether or not shorter naps may have positive effects, however, remains to be seen, according to the researchers.
"Several studies have demonstrated beneficial effects of taking short naps less than 30 minutes in duration, which help to increase alertness and motor skills," they said in a press release. "... Although the mechanisms by which a short nap might decrease the risk of diabetes are still unclear, such duration-dependent differences in the effects of sleep might partly explain our finding. A short nap might have the effect of improving an abnormal circadian rhythm and modifying a variety of endocrine abnormalities caused by sleep deprivation."
They concluded that more studies are needed to determine the efficacy of shorter naps.
For more coverage of EASD 2016, click here.
Reference
Tomohide Y, Shojima N, Yamauchi T Kadowaki T. Abstract 816. Daytime napping and the risk of metabolic diseases: dose-response meta-analysis. Presented at: EASD 2016 Annual Meeting; September 12-16, 2016; Munich, Germany.