August 02, 2015
Drinking Alcohol Around Time of Conception May Boost Baby's Diabetes Risk
the Endocrinology Advisor take:
Babies born to mothers who drink alcohol around the time of conception may have an increased risk for developing type 2 diabetes and obesity in early middle age, according to data published in the FASEB Journal.
In the study, the researchers compared outcomes in Sprague-Dawley rats who were given alcohol in a liquid diet around the time of conception with those who were given a liquid diet with equal caloric intake but no alcohol.
Offspring born to mothers who consumed alcohol around the time of conception had higher fasting plasma glucose, impaired glucose tolerance and decreased insulin sensitivity by 6 months of age.
Specifically, the researchers found that consuming the equivalent of five standard drinks around the time of conception altered development of the fetus.
"Before the egg implants, before any organs start to develop, alcohol consumption somehow causes changes to the embryo," study researcher Karen M. Moritz, PhD, of the University of Queensland in Australia, said in a press release.
"Anything that affects fetal development can cause long-term programming, which means offspring can be born with increased risk and susceptibility to disease later in life. Monitoring the offspring of the laboratory rat model, we found the risk of becoming obese and developing type 2 diabetes in early middle age dramatically increased."
Although diet and exercise largely contribute to development of type 2 diabetes and obesity, these data indicate that alcohol consumption around the time of conception may play a role, according to Moritz. She noted that this is important information, as not all pregnancies are planned.
"Although most women stop drinking once they discover they are pregnant, a significant proportion are consuming alcohol at the time of conception, before they even know," she said.
"Our future research will be focusing on the possibility of administering preventative interventions."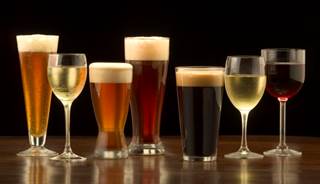 Alcohol consumption around conception may increase the baby's risk for diabetes later in life.
Alcohol consumption throughout pregnancy can cause metabolic dysregulation, including glucose intolerance in progeny. This study determined if periconceptional (PC) alcohol (12% v/v in a liquid diet) (PC:EtOH) consumed exclusively around conception results in similar outcomes in Sprague-Dawley rats. Control (C) rats were given a liquid diet containing no alcohol but matched to ensure equal caloric intake. PC maternal alcohol intake (from 4 days before conception until day 4 of gestation), resulted in offspring with elevated fasting plasma glucose (∼10–25%, P < 0.05), impaired glucose tolerance (P < 0.05), and decreased insulin sensitivity (P < 0.01) at 6 months of age.
Sign Up for Free e-Newsletters
Check out what's trending
CME Focus