August 16, 2018
DPP-4 Inhibitors and Incidence of Rheumatoid Arthritis in Type 2 Diabetes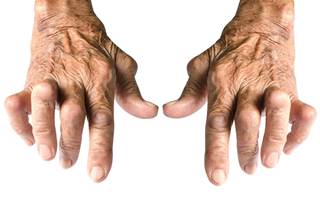 Compared with other second- and third-line antidiabetic drugs, dipeptidyl peptidase-4 inhibitors were not associated with an increased risk for rheumatoid arthritis.
Use of dipeptidyl peptidase-4 inhibitors might not be associated with increased risk for rheumatoid arthritis in patients with type 2 diabetes, according to a recent study published in Epidemiology.
Despite a generally positive safety profile, dipeptidyl peptidase-4 (DPP-4) inhibitors are often linked to adverse effects such as rheumatoid arthritis. To assess the validity of this connection, researchers used medical records from the United Kingdom Clinical Practice Research Datalink to evaluate a cohort of 144,603 patients newly diagnosed with type 2 diabetes and prescribed their first antidiabetic drug. After receiving their prescription of DPP-4 or another antidiabetic, patients were followed for a median duration of 3.7 years.
Compared with users of other antidiabetic drugs (average age, 62 years), those who were prescribed DPP-4 inhibitors (average age, 66 years) were more likely to have elevated hemoglobin A1c levels at baseline and had a longer duration of treated diabetes.
During the follow-up period, 31,355 patients were prescribed DPP-4 inhibitors. Compared with a rate of 82 incidences of rheumatoid arthritis per 100,000/year for other antidiabetic drugs, rheumatoid arthritis was diagnosed in 79 per 100,000 year among those prescribed DPP-4 inhibitors. In addition, there was no evidence of duration-response relation, drug-specific effect, or modification by sex.
Researchers noted certain limitations, such as susceptibility to potential residual confounding because of the observational nature of the study.
Despite this and other limitations, researchers said their findings indicate that "the use of DPP-4 inhibitors is not associated with an increased risk of incident rheumatoid arthritis compared with the use of other antidiabetic drugs either overall, according to measures of duration or by specific DPP-4 inhibitor."
Reference
Douros A, Abrahami D, Yin H, et al. Use of dipeptidyl peptidase-4 inhibitors and new-onset rheumatoid arthritis in patients with type 2 diabetes [published online July 18, 2018]. Epidemiology. doi: 10.1097/EDE.0000000000000891