November 06, 2014
Collaborative Care Decreased Depression in Type 2 Diabetes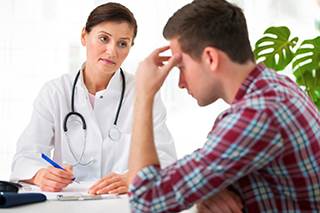 Collaborative Care Decreased Depression in Type 2 Diabetes
(HealthDay News) — Using a nurse case-manager-based collaborative primary care team can cut depressive symptoms in patients with type 2 diabetes, according to a study published in Diabetes Care.
Jeffrey A. Johnson, PhD, from the University of Alberta in Edmonton, Canada, and colleagues evaluated a nurse case-manager-based collaborative primary care team model. The Patient Health Questionnaire (PHQ) score was used to screen for depression at baseline and at 12 months.
Ninety-five patients were assigned to the intervention, 62 to active control, and 71 comparable patients were used as nonscreened usual-care control subjects.
The researchers found that one-quarter of the 1,924 screened patients had a PHQ score >10 (mean age, 57.8 years; 55% women; mean PHQ score, 14.5).
Compared with active-control subjects, intervention patients had greater 12-month improvements in PHQ (5.2 vs. 7.3; P=0.015). PHQ reduction of 50% (recovery from depressive symptoms) was also greater among intervention patients (61% vs. 44%; P=.03).
Nonscreened control subjects had significantly less improvement at 12 months in the PHQ score (3.2) and lower rates of recovery (24%; P<.05 for both), compared with screened patients.
"In patients with type 2 diabetes who screened positive for depressive symptoms, collaborative care improved depressive symptoms, but physician notification and follow-up was also a clinically effective initial strategy compared with usual care," the researchers wrote.
Two authors disclosed financial ties to the pharmaceutical industry.
Reference