December 06, 2014
Canagliflozin Plus Insulin Benefited Diabetes Patients
the Endocrinology Advisor take:
In the Canagliflozin Cardiovascular Assessment Study (CANVAS), researchers found that adding canagliflozin (Invokana) to insulin therapy yielded improvements in glycemic control and reduced body weight in patients with type 2 diabetes, according to data published in Diabetes Care.
For the double blind study, the researchers randomly assigned 690 participants with type 2 diabetes to receive placebo, 692 to receive once-daily canagliflozin 100 mg and 690 to receive once-daily canagliflozin 300 mg. Change in HbA1c from baseline to 18 weeks in those using insulin served as the primary endpoint.
Most participants were men (66%), and median age was 63 years. Participants had a mean HbA1c of 8.3%, BMI of 33.1, fasting plasma glucose (FPG) of 9.2 mmol/L, and median daily insulin dose was 60 IU.
At 18 weeks, compared with placebo, HbA1c reductions with canagliflozin 100 mg and 300 mg were –0.62% (95% CI, –0.69 to –0.54) and –0.73% (95% CI, –0.81 to –0.65), respectively. At 52 weeks, reductions were –0.58% (95% CI, –0.68 to –0.48) and –0.73% (95% CI, –0.83 to –0.63), respectively.
The researchers also observed significant reductions in FPG, body weight and blood pressure (BP) at both 18 and 52 weeks. However, both canagliflozin doses were linked to a higher incidence of hypoglycemia, genital mycotic infections and hypovolemia.
Overall, canagliflozin resulted in better glycemic control in patients with type 2 diabetes. Further, although side effects were increased with canagliflozin, they were expected and few led to discontinuation, the researchers concluded.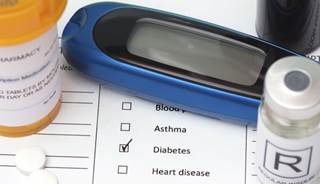 Canagliflozin Plus Insulin Benefited Diabetes Patients
OBJECTIVE: There are limited data about the effects of sodium glucose cotransporter 2 inhibitors when used with insulin. We report the efficacy and safety of canagliflozin in patients with type 2 diabetes using insulin.
RESEARCH DESIGN AND METHODS: The Canagliflozin Cardiovascular Assessment Study is a double-blind, placebo-controlled study that randomized participants to placebo, canagliflozin 100 mg, or canagliflozin 300 mg once daily, added to a range of therapies. The primary end point of this substudy was the change in HbA1c from baseline at 18 weeks among patients using insulin; 52-week effects were also examined.
Sign Up for Free e-Newsletters
Check out what's trending
CME Focus