January 29, 2018
Balance Training May Reduce Fall Risk in Older Adults With T2D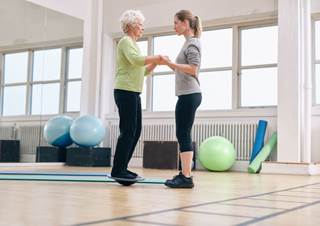 After the exercise intervention, a significant training effect was found for both hand and foot reaction times.
Balance training may help to reduce the risk for falls in older adults with type 2 diabetes (T2D) by improving reaction times, lower limb proprioception, and postural sway, according to a study published in the Journal of the American Medical Directors Association.1
Patients with T2D are at a greater risk for falls because of decreased muscle strength, slower reactions, diminished sensory input, pain, and impaired vision, among other reasons.2-4 Few studies have evaluated the effect of balance training in reducing falls in patients with T2D.5,6
Therefore, researchers recruited 65 older adults with T2D and randomly assigned them into 2 groups: supervised balance training or unsupervised at-home training, using the Nintendo Wii Fit balance board for 12 weeks.1 The participants were required to complete three 40-minute sessions per week, for a total of 36 sessions.
The researchers found that both training programs led to a significant decrease in falls risk (P <.05) that was attributable to a significant change in reaction times for the hand (P <.05), foot (P <.01), lower-limb proprioception (P <.01), and postural sway (P <.05). These improvements were not reflected by significant changes in lower limb strength, indicating that balance training may help enhance intrinsic risk factors related to balance control instead.
There are often barriers to continued participation in supervised exercise programs as well as adherence to home-based exercise activities.7 In this study, less than 5% of patients in the supervised training group dropped out, but more than 50% of patients in the Wii-based group failed to appropriately complete the training or all sessions of the intervention.1
The investigators concluded that, "Overall, our results highlight that training interventions to reduce falls risk that target intrinsic risk factors related to balance control (over muscle strength) can have positive benefits for the older adult with [T2D] at risk for falls."1
References