April 13, 2018
Lifestyle Changes During Pregnancy Improve Postpartum Glucose Regulation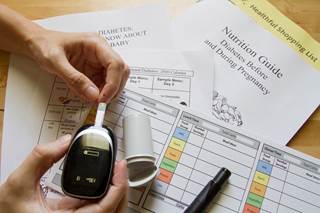 Lifestyle modification included following the Nordic diet recommendations with at least 150 minutes of exercise weekly.
Pregnant women at risk for gestational diabetes who made lifestyle changes during the pregnancy and up to 1 year postpartum showed improved glucose regulation when compared with control patients, according to a recent study published in the Journal of Clinical Endocrinology & Metabolism.
Glucose metabolism from pregnant women (n=200) with either a history of gestational diabetes or a prepregnancy body mass index ≥30 kg/m2 before 20 weeks of gestation who followed Nordic diet recommendations including an increased intake of vegetables, fruits, high-fiber grains, and fish was measured via blood tests and compared with that of control patients.
Glucose impairment at 6 weeks and/or 12 months was noted in 13.3% of participants in the control group and 2.7% in the intervention group (P =.005) In addition, there were no differences between the groups in weight retention, physical activity, or diet at 12 months postpartum.
These results suggest diet changes during pregnancy can reduce the incidence of gestational diabetes, which is clinically relevant, as women with a history of gestational diabetes have a 7 times greater risk of developing type 2 diabetes.
The study investigators note, "Normal glucose tolerance soon after delivery indicates a faster recovery from the pregnancy-related insulin resistance state and stress to beta cells." They added, "We believe that creating possibilities for a better lifestyle during pregnancy and the first postpartum year promotes better metabolic health also later in life."
Reference
Huvinen E, Koivusalo S, Meinilä J2, et al. Effects of a lifestyle intervention during pregnancy and first postpartum year – findings from the RADIEL study [published online February 1, 2018]. J Clin Endocrinol Metab. doi: 10.1210/jc.2017-02477