May 08, 2018
Incretins, Thiazolidinediones Associated With Better Glycemic Control in T2D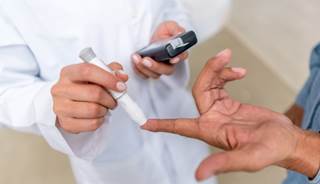 Patients taking thiazolidinedione achieved an HbA1c below 7% at 6 months of initiation without a third-line agent.
Both second-line thiazolidinediones (TZDs) and incretins are effective in lowering glycated hemoglobin (HbA1c) in individuals with type 2 diabetes over the course of 2 years, according to a study recently published in Diabetes, Obesity and Metabolism.
This real-world study included 163,081 individuals between the ages of 18 to 80 years with type 2 diabetes. All subjects started on metformin and were moved to a second-line treatment with glucagon-like peptide-1 (GLP-1) receptor agonists (GLP-1RAs), insulin, dipeptidyl peptidase-4 (DPP-4) inhibitors, sulphonylureas (SUs), or TZDs for a minimum of 6 months. Data for this study came from US Centricity Electronic Medical Records, using baseline characteristics to balance the different treatment groups. They measured glycemic achievements through use of logistic regression analysis.
The adjusted probabilities of lowering HbA1c to below <7% for those with HbA1c concentrations between 7.5% to 7.9% at the start of second-line treatment were 32% with SUs, 38% with DPP-4 inhibitors, 39% with GLP-1RA, 26% with insulin, and 38% with TZD. In individuals with initial HbA1c concentrations between 8% to 9%, the probabilities of lowering HbA1c to less than <7.5% were 38% with SUs, 44% with DPP-4 inhibitors, 40% with GLP-1RA, 34% with insulin, and 42% with TZD. It was more likely for those treated with GLP-1RAs and TZDs to maintain lower HbA1c levels than those treated with SUs or insulin (P<.01).
For those whose initial HbA1c concentrations were between 9.1% to 12%, 38% showed HbA1c concentrations of <7.5% by the 6-month mark. It was more likely for those treated with incretin and TZD to sustain this level (between 62% to 75%) than those treated with insulin and SUs (between 54% to 56%).
Researchers conclude that "[patients] treated with second-line incretins and [TZD] had significantly higher probability of achieving and sustaining glycaemic control over two years without further intensification, compared to those treated with [SU] or insulin."
Reference
Montvida O, Shaw J, Blonde L, Paul SK. Long-term sustainability of glycaemic achievements with second-line antidiabetic therapies in patients with type 2 diabetes: a real-world study [published online March 14, 2018]. Diabetes Obes Metab. doi: 10.1111/dom.13288