June 20, 2018
Vascular Mortality Declining in Adults With Diabetes in the United States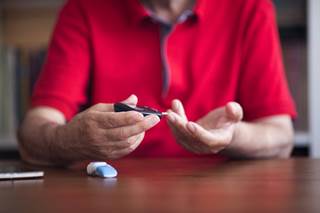 Nonvascular and noncancer deaths account for nearly half of all deaths in patients with diabetes, such as renal disease, influenza, and sepsis.
Vascular disease mortality rates are declining in the United States, which is leading to a diversification of types of diabetes-related mortality, according to results published in the Lancet.
This shift in causes of death indicates a need for clinical management, prevention, and monitoring of a more diverse range of diabetes-related conditions.
The study used data from the National Health Interview Survey Linked Mortality files from 1985 to 2015. The researchers estimated age-specific death rates and proportional mortality from all causes, vascular causes, cancers, nonvascular causes, and noncancer causes among adults in the United States by diabetes status.
The researchers found that from 1988 to 1994 and from 2010 to 2015, the all-cause death rates declined by 20% every 10 years for adults with diabetes (going from 23.1 [95% CI, 20.1-26.0] to 15.2 [95% CI, 14.6-15.8] per 1000 person-years).
For adults with diabetes, death from vascular causes decreased 32% every 10 years (going from 11.0 [95% CI, 9.2-12.2] to 5.2 [95% CI, 4.8-5.6] per 1000 person-years). Deaths from cancers decreased 16% every 10 years (going from 4.4 [95% CI, 3.2-5.5] to 3.0 [95% CI, 2.8-3.3] per 1000 person-years). Nonvascular, noncancer deaths declined by 8% every 10 years (going from 7.7 [95% CI, 6.3-9.2] to 7.1 [95% CI, 6.6-7.5]).
For adults without diabetes, the death rates in these 4 categories also significantly decreased, but the reduction in death rates was significantly greater for adults with diabetes for all causes (P<.0001), vascular causes (P=.0214), and nonvascular, noncancer causes (P<.0001).
Several nonvascular, noncancer causes of death, including renal disease, influenza, pneumonia, sepsis, and chronic liver disease, were significantly higher among adults with diabetes compared with adults without diabetes.
"The reduction in relative risk of all-cause and vascular-disease death associated with diabetes should not be interpreted as an indication that the public health burden of diabetes is declining," the researchers wrote. "One byproduct of the reduction in mortality has been the increase in lifetime risk and years spent with diabetes in the USA."
Reference
Gregg EW, Cheng YJ, Srinivasan M, et al. Trends in cause-specific mortality among adults with and without diagnosed diabetes in the USA: an epidemiological analysis of linked national survey and vital statistics data [published online May 18, 2018]. Lancet. doi: 10.1016/S0140-6736(18)30314-3