September 13, 2018
Concurrent Risk Factors and Microvascular Complications in Type 1 Diabetes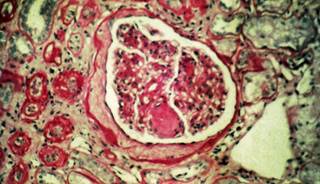 High concurrent complication burden increases the risk for diabetic kidney disease, retinopathy, and neuropathy.
The concurrent risk factor and complication burden profile of patients with type 1 diabetes have a significant impact on individual risk for microvascular complications, according to a study published in Diabetes Care.
By applying a multistate model to the development of retinopathy, diabetic kidney disease, and neuropathy seen in the electronic patient records of a Steno Diabetes Center Copenhagen clinical cohort, researchers explored the effect of complication burden and risk factors of patients with type 1 diabetes on microvascular complications. Ultimately, 3586 patients were included in the study, and the risk factors investigated included the duration of diabetes, age, sex, HbA1c, body mass index, systolic and diastolic blood pressure, estimated glomerular filtration rate (eGFR), serum creatine, total cholesterol, HDL and LDL cholesterol, cardiovascular disease, triglycerides, and smoking status.
When compared with patients without complications, the ratios for incidence rate in patients with 2 prior complications were 1.7 for neuropathy (95% CI, 1.2-2.4), 2.1 for retinopathy (95% CI, 1.5-3.1), and 3.2 for diabetic kidney disease (95% CI, 2.3-4.5). Except for LDL cholesterol, all risk factors investigated were associated with neuropathy, with baseline cardiovascular disease status having a stronger effect than concurrent cardiovascular disease status. For retinopathy, systolic blood pressure, baseline LDL cholesterol, duration of diabetes, and both concurrent and baseline HbA1c were associated with increased risk. Risk factors with the strongest association with diabetic kidney disease were systolic blood pressure, eGFR, concurrent and baseline HbA1c, and baseline cardiovascular disease status.
Study investigators conclude that for most patients, the development of one complication will increase the risk of developing further complications, which emphasizes the importance of regular clinical assessments and risk evaluation. Additionally, the researchers concluded, "the findings suggest that adequate risk factor control is equally important, regardless of the current number of complications, to prevent the development of further microvascular complications."
Reference
Bjerg L, Hulman A, Carstensen B, Charles M, Jørgensen ME, Witte DR. Development of microvascular complications and effect of concurrent risk factors in type 1 diabetes: a multistate model from an observational clinical cohort study [published online August 21, 2018]. Diabetes Care. doi:10.2337/dc18-0679