July 13, 2016
Mortality Rate Higher With Recurrent Diabetic Ketoacidosis in Young, Disadvantaged Patients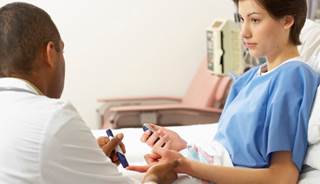 Patients with recurrent diabetic ketoacidosis were diagnosed at a younger age than those with only 1 episode.
Recurrent diabetic ketoacidosis was associated with substantial mortality in a population of young, socially disadvantaged adults with very high HbA1c levels, according to recent data published in Diabetologia.
Researchers at the Royal Infirmary of Edinburgh in the United Kingdom sought to assess the risk of mortality during hospital admission for diabetic ketoacidosis and following discharge in 298 patients with type 1 diabetes. A total of 628 hospital admissions were identified by discharge coding between 2007 and 2012. The investigators obtained clinical, biochemical, and mortality data from electronic patient records and national databases and followed the patients until the end of 2014.
"The most striking finding from this investigation is the substantial short-term risk of death associated with recurrent diabetic ketoacidosis admissions in patients with type 1 diabetes," the authors noted.
"Although recent evidence suggests suboptimal adherence to diabetic ketoacidosis management protocols in the UK, inpatient outcomes are almost always satisfactory. However, the frequency of subsequent sudden death at home, particularly in young people, is unacceptably high."
The researchers found that patients with recurrent diabetic ketoacidosis, defined as more than 5 episodes, were diagnosed with diabetes at an earlier age compared with those with only a single diabetic ketoacidosis admission (median age, 14 years vs 24 years; P<.001). In addition, patients who had recurrent diabetic ketoacidosis were generally younger than those with a single episode (25 vs 31 years; P=.079) and had higher levels of social deprivation (P=.005).
Those with recurrent diabetic ketoacidosis also had higher HbA1c values than those with a single episode (103 vs 79 mmol/mol; 11.6% vs 9.4%; P<.001). They were also more likely to use antidepressants (47.5% vs 12.6%; P=.001).
The overall inpatient diabetic ketoacidosis mortality rate was approximately 0.16%. After a median follow-up of 4.9 years, 44 deaths were observed among 298 individuals. A single episode was associated with a 5.2% mortality risk compared with 23.4% in those with recurrent diabetic ketoacidosis admissions over a median of 2.4 years (hazard ratio, 6.18; P=.001).
"Having recognized the significant mortality risk associated with recurrent diabetic ketoacidosis, it is important that these findings are verified, ideally through national registry data," the authors wrote. "Those diagnosed with diabetes in adolescence and those with mental health issues appear to be at particularly high risk for recurrent diabetic ketoacidosis, and efforts are required to develop effective support strategies."
Disclosures: The researchers report no conflicts of interest.
Reference