August 27, 2018
Dual Diagnosis of Diabetes and Eating Disorders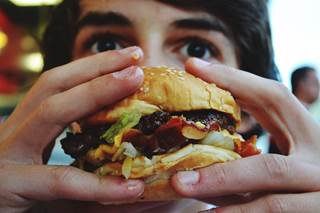 In T1D, because of the emphasis on food monitoring and planning in relation to insulin doses, eating disorders may be more likely to develop in these individuals than in the general population.
Among the many conditions that may co-occur with diabetes, eating disorders are common. Because of the emphasis on food monitoring and planning in relation to insulin doses, eating disorders may be more likely to develop in people with type 1 diabetes (T1D) than in the general population.1 The significant weight gain that often occurs as these patients transition from adolescence to early adulthood may further influence the development of problematic eating behaviors.2
In a meta-analysis of studies comparing adolescents and young adults with T1D with their peers without diabetes, medium effect sizes were found for eating disorders (d= .46; 95% CI, 0.10-0.81) as well as for disordered eating behaviors that are symptomatic of but that do not meet the full diagnostic criteria for eating disorders (d= .52; 95% CI, 0.10-0.94).3 Other results pertaining to those with T1D in this age group have shown that 10% met diagnostic criteria for eating disorders vs 4% of controls.4 In addition, a substantial number of patients reported behaviors such as laxative misuse and self-induced vomiting and insulin misuse for weight control.5
Outcomes and risk factors
In addition to the increased morbidity and mortality associated with eating disorders in general, research findings indicate that people with comorbid T1D and eating disorders have an elevated risk for poor glycemic control, diabetic ketoacidosis (as a result of insulin restriction), and increased microvascular complications.6 "Taken together, these studies highlight the increased medical risks associated with eating disorders and disordered eating behavior — especially insulin omission — in individuals with type 1 diabetes," wrote the authors of a 2013 paper published in Current Diabetes Reports.6
Risk factors for eating disorders among individuals both with and without T1D include adolescence, female gender, higher body mass index, negative body image, and drive for thinness.6 The authors further explained that modern diabetes technology may increase opportunities for misuse in patients with body dissatisfaction. "For example, pumps allow easy titration of insulin doses and may enable individuals to keep blood sugars high," they wrote.6 "Similarly, [continuous glucose monitoring] provides constant glucose data, so individuals may believe they can more 'safely' keep blood glucose elevated."
Screening and treatment
Clinicians should screen patients with T1D regularly for disordered eating from pre-adolescence through early adulthood. Asking about food and weight concerns may be a helpful starting point for providers to gain a sense of potential risk. Formal screening assessments such as the Yale-Brown-Cornell Eating Disorder Scale and the Diabetes Eating Problem Survey may be used, although it should be noted that generic tools may overestimate disordered eating behaviors in patients with T1D.7
Weight loss is the most significant symptom linked with the practice of insulin manipulation in T1D. Other signs and symptoms, as stated by the Eating Recovery Center in Denver, Colorado, are described below.8
Chronic insulin deficiency with hyperglycemia, ketonuria, and recurrent episodes of diabetic ketoacidosis
Growth arrest or delay in adolescents
Increased percentage of high hemoglobin A1c levels (in spite of good blood sugar records, which may be falsified by the patient)
Polydipsia
Polyphagia, which can lead to binging
Polyuria
Poor metabolic control (glycemic control), especially if the patient had good metabolic control previously
Recurrent episodes of hypoglycemia
For cases in which disordered eating is suspected, referral for evaluation by a mental health professional is indicated. Treatment for eating disorders should be multidisciplinary and may include individual psychotherapy, family therapy, cognitive behavioral therapy, nutrition counseling, psychoeducation, and alternative therapies including yoga and mindfulness training, as well as ongoing medical care.
For further insight regarding the dual diagnosis of T1D and eating disorders, Endocrinology Advisor interviewed Ovidio Bermudez, MD, medical director of child and adolescent services and chief clinical education officer at the Eating Recovery Center, clinical professor of psychiatry and pediatrics at the University of Oklahoma College of Medicine, and clinical professor of pediatrics at the University of Colorado School of Medicine.
Endocrinology Advisor: What is known about the relationship between diabetes and eating disorders?
Dr Bermudez: Having T1D is a risk factor for the development of an eating disorder. Up to one-third of young people with T1D will intentionally manipulate their insulin, and we know this carries significant morbidity risk. Some of these individuals will go on to [have] an eating disorder or the dual diagnosis of eating disorder and diabetes mellitus type 1. [This is characterized by regular, intentional misuse of insulin for the purpose of losing weight.]
Endocrinology Advisor: What are some common problems among those with both diseases?
Dr Bermudez: Among patients with both illnesses, there is significant morbidity, with earlier onset or rapid advancement of the microvascular complications of diabetes — nephropathy, retinopathy, cardiopathy, and peripheral neuropathy. There is also a significant risk for mortality that is several-fold higher than that [associated with] T1D alone or with an eating disorder alone.
Endocrinology Advisor: What should clinicians know about the diagnosis and treatment of comorbid diabetes and eating disorder?
Dr Bermudez: There are a couple of key issues here. The first is to understand the risk. There are both learned and biologic factors about the onset and management of T1D that bring about risk for the development of an eating disorder. These include aspects of diabetes management education, with the [continual] focus on numbers and carbohydrate counting. [An eating disorder will not develop in] all patients with T1D, but those who do [have an eating disorder] will be at high risk for serious complications.
Also, it is important to know that weight loss in anyone with T1D needs to be investigated, and clinicians should maintain a high index of suspicion for intentional misuse of insulin. Finally, those diagnosed with [eating disorder and diabetes mellitus type 1] should be thoroughly evaluated, including for the need to admit medically or to a specialized eating disorder treatment facility until the situation is stable. For more serious forms of the illness, a multidisciplinary team with expertise in all specialty areas, like we offer at Eating Recovery Center, is essential.
Endocrinology Advisor: What should be the focus of additional investigation in this area?
Dr Bermudez: There is a need for research on how to educate colleagues on the front lines of diabetes care and primary care [to recognize] the risk for those with T1D and when they have crossed the line into an eating disorder. Early recognition and timely and effective intervention are the best current approaches to address this growing problem. Also, how we may be able to modify diabetes care education to avoid the risk [for the development] of eating pathology is an area requiring further study. Future technologic advances in the care of diabetes may be very helpful with this.
References
1. Goebel-Fabbri AE. Disturbed eating behaviors in type 1 diabetes: clinical significance and recommendations. Curr Diab Rep. 2009;9:133-139.
2. Gagnon C, Aimé A, Bélanger C. Predictors of comorbid eating disorders and diabetes in people with type 1 and type 2 diabetes. Can J Diabetes. 2017;41(1):52-57.
3. Young V, Eiser C, Johnson B, et al. Eating problems in adolescents with type 1 diabetes: a systematic review with meta-analysis. Diabet Med. 2013;30(2):189-198.
4. Jones JM, Lawson ML, Daneman D, Olmsted MP, Rodin G. Eating disorders in adolescent females with and without type 1 diabetes: cross sectional study. BMJ. 2000;320(7249):1563-1566.
5. Peveler RC, Bryden KS, Neil HAW, et al. The relationship of disordered eating habits and attitudes to clinical outcomes in young adult females with type 1 diabetes. Diabetes Care. 2005;28:84-88.
6. Hanlan ME, Griffith J, Patel N, and Jaser SS. Eating disorders and disordered eating in type 1 diabetes: prevalence, screening, and treatment options. Curr Diab Rep. 2013;13:909-916.
7. Powers MA, Richter S, Ackard D, Critchley S, Meier M, Criego A. Determining the influence of type 1 diabetes on two common eating disorder questionnaires. Diabetes Educ. 2013;39(3):387-396.
8. Berg B. Eating Disorders and Type 1 Diabetes – Dr. Ovidio Bermudez. Eating Recovery Center. https://www.eatingrecoverycenter.com/blog/2016/03/21/eating-disorders-and-type-1-diabetes-dr-ovidio-bermudez. March 21, 2016. Accessed August 17, 2018.