November 27, 2018
Type 1 Diabetes Confers Extra Risk for Autoimmune Diseases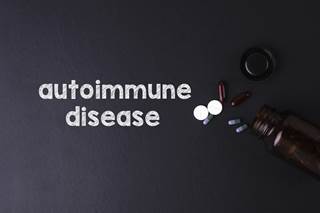 Clinicians should monitor patients with T1D for autoimmune diseases because they can affect other organs and contribute to the morbidity of these patients.
As the number of type 1 diabetes (T1D) cases grows worldwide, so will the number of autoimmune diseases, which increase morbidity and impair glucose control.1 The United Nations is so concerned about the threat diabetes will have in the global population that it considers the disease a 21st century epidemic that is responsible for 4.6 million worldwide deaths and $465 billion in healthcare expenditures annually.2
Autoimmune Comorbidities That Affect Patients With T1D
The most common autoimmune diseases found in 15% to 30% of patients with T1D include autoimmune thyroid disease, specifically Hashimoto's thyroiditis and Graves' disease.1 People with T1D are 2 to 4 times more likely to have these diseases than the general population.1
Celiac disease affects 1% to 5.5% of the general pediatric population, but in children and adolescents with T1D the incidence is 0.6% to 16.4%.1 Individuals at highest risk for concomitant celiac disease are females and patients whose T1D was diagnosed at a young age.1
Patients with comorbid celiac disease and T1D need to be careful to maintain a gluten-free diet because it can inadvertently introduce more saturated fatty acids with a high glycemic index at the expense of protein and fiber. Conversely, eating gluten could lead to hypoglycemic episodes, bone demineralization, and impaired fertility.1 Therefore, the International Society for Pediatric and Adolescent Diabetes suggests testing for celiac disease annually the first 5 years after an initial T1D diagnosis.1
Autoimmune gastritis occurs in up to 10% of the population with T1D.1 Its initial stages are asymptomatic, and as the disease progresses it manifests as iron and vitamin B12 deficiency. Autoimmune gastritis is diagnosed in the laboratory with serum biomarkers, including anti-parietal cell autoantibodies. Although there are no guidelines for specific treatment, it is crucial to manage these patients for iron and vitamin B12 deficiencies and precancerous lesions.1
Adrenal autoimmunity, which affects 1% to 2% of adults with T1D, causes fatigue, weight loss, decreased appetite, and discoloration of the skin.1 The disease causes hypoglycemic episodes due to glucocorticoid deficiency.1
Vitiligo, the discoloration of the skin, is rare in the general population, occurring in approximately 0.5% to 1% of people.1 T1D occurs in 16% to 20% of patients with vitiligo. Vitiligo, which can precede a T1D diagnosis, may be a sign that other autoimmune diseases are present.1
Polyglandular autoimmune syndrome (PAS), a disparate cluster of rare diseases, involves at least 2 endocrine glands and often other organs.1
Insidious Comorbidities
Clinicians need to be vigilant in screening for autoimmune comorbidities in patients with T1D because so many of the diseases are insidious.3 Some conditions, such as thyroid storm and adrenal crisis, can be life-threatening.3 To better characterize autoimmune diseases in people with T1D, diabetologist Jing W. Hughes, MD, PhD, instructor in medicine in the endocrine division, Washington University School of Medicine in St Louis, Missouri, and colleagues analyzed a database of 25,759 T1D Exchange Clinic Registry participants, whose ages ranged from 1 to 93 (mean age, 23; 50% women).3 Nearly one-third of the participants had at least 1 autoimmune disease. The likelihood of multiple autoimmune diseases increased with age and in women and patients of non-Hispanic white race/ethnicity.3
"Our research should alert clinicians to screen for autoimmune diseases in individuals with [T1D]," said Dr Hughes. "Aside from annual [thyroid stimulating hormone tests] for thyroid abnormalities, other conditions to consider screening for include celiac disease and pernicious anemia. There does not appear to be an age cutoff for developing autoimmune diseases, meaning patients should be tested whenever symptoms arise, regardless of age."
Who Is Most Likely to Have Autoimmune Comorbidities?
A later study confirmed the risks for autoimmune diseases in patients with T1D. Yicheng K. Bao, BA, a medical student at the University of Missouri-Kansas City School of Medicine, and colleagues examined 158,865 records of adults with T1D (mean age, 51.4; 52.5% female) from the de-identified HealthFacts national patient database, which represented about 16% of American adults with T1D.4 In one of the first studies to determine how autoimmune diseases affect various races and ethnicities, the researchers found that older white women with T1D were most likely to have comorbid autoimmune diseases. Thyroid disease (20.1%), systemic rheumatic diseases (3.4%), rheumatoid arthritis (2.0%), and gastrointestinal autoimmune diseases (1.4%) were the most common autoimmune diseases recorded.4
An overwhelming number of autoimmune diseases were predominantly comorbid in women with T1D: hypothyroidism (69% female; P <.0001), hyperthyroidism (69% female; P <.0001), alopecia (79% female; P <.0001), celiac disease (64% female; P <.0001), rheumatoid arthritis (73% female; P <.0001), lupus (82% female; P <.0001), and Sjögren syndrome (87% female; P <.0001). Only primary sclerosing cholangitis had a significant predominance in men (55% male; P <.01).
Compared with other ethnicities, white participants with T1D were most likely to have an autoimmune diseases (26%), followed by 20% of Asians, 18% of Hispanics, 15% of African Americans, and 15% of Native Americans (P <.0001).4 Autoimmune thyroid disease was the most common autoimmune disease in every ethnic group, and Asians and white patients had a higher risk for systemic rheumatic disease than African Americans, Hispanics, and Native Americans (P<.0001).4
"Clinicians taking care of patients with T1D should be vigilant on the review of systems for other autoimmune diseases, such as thyroid disease, rheumatoid arthritis, and gastrointestinal autoimmune diseases," said Mr Bao, the lead study investigator. "Additional autoimmunity in T1D is more common in older age, women than men, and in [white patients] more than other races."
Summary & Clinical Applicability
T1D predisposes children and adults to autoimmune diseases, which can impair glucose metabolism and interfere with insulin therapy. Clinicians need to monitor patients with T1D for autoimmune diseases because they can affect other organs and contribute to the morbidity of patients with T1D.
Limitations & Disclosures
None.

Follow @EndoAdvisor
References
1. Krzewska A, Ben-Skowronek I. Effect of associated autoimmune diseases on type 1 diabetes mellitus incidence and metabolic control in children and adolescents. Biomed Res Int. 2016;2016:6219730.
2. International Diabetes Federation. Diabetes and climate change report. https://ncdalliance.org/sites/default/files/rfiles/IDF%20Diabetes%20and%20Climate%20Change%20Policy%20Report.pdf. Published June 2012. Accessed October 20, 2018.
3. Hughes JW, Riddlesworth TD, DiMeglio LA, Miller KM, Rickels MR, McGill JB. Autoimmune diseases in children and adults with type 1 diabetes from the T1D Exchange Clinic Registry. J Clin Endocrinol Metab. 2016;101(12):4931-4937.
4. Bao YK, Weide LG, Ganesan VC, et al. High prevalence of comorbid autoimmune diseases in adults with type 1 diabetes from the HealthFacts Database [published online September 18, 2018]. J Diabetes. doi:10.1111/1753-0407.12856