October 02, 2014
Low-Activity I-131 Not Optimal in Differentiated Thyroid Cancer
the Endocrinology Advisor take:
Differentiated thyroid cancer-specific mortality was higher in both high- and low-risk patients with the disease after treatment with low-activity vs. high-activity I-131 therapy after thyroidectomy, according to a study published in the Journal of Clinical Endocrinology & Metabolism.
Treatment for differentiated thyroid cancer often involves thyroidectomy followed by radioactive iodine therapy (I-131). However, the most effective required amount of I-131 is still controversial.
In this study, researchers aimed to compare different I-131 ablation activities to assess outcomes in terms of complete remission, differentiated thyroid cancer recurrence, differentiated thyroid cancer-related death and potential loss of life expectancy.
The researchers reviewed data from 1,298 patients with differentiated thyroid cancer who underwent total thyroidectomy and at least one course of I-131 therapy. Patients were grouped by I-131 activity. Group I received 2,000 MBq or less, group II received between 2,000 to 3,000 MBq and group III received more than 3,000 MBq.
Each group was also subdivided by age.
Higher differentiated thyroid cancer-related mortality was observed in group I patients aged at least 45 years. Recurrence rate was also higher in older, high-risk patients in this group, according to the data.
Low-risk patients in group I, as compared with low-risk patients in other groups, also required higher cumulative activity to achieve complete remission, thereby raising their risk for long-term side effects related to radiation exposure.
In light of these data, results of long-term follow-up should be considered before adopting low initial activity I-131. Further, initial low-activity I-131 is not recommended for older, high-risk patients, the researchers wrote.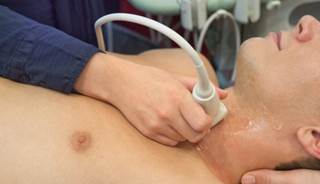 Low-Activity I-131 Not Optimal in Differentiated Thyroid Cancer
The required amount of I-131 needed to achieve optimal outcomes of initial radioactive iodine therapy in differentiated thyroid cancer remains controversial. Further, clinical trials have sparked interest in the use of initial low-activity I-131 as treatment.
To learn more, researchers conducted a study comparing low-activity I-131 with high-activity I-131 in both low-risk and high-risk patients with differentiated thyroid cancer.
Their findings shed some light on which treatment may be most effective and most safe for patients.
Sign Up for Free e-Newsletters
Check out what's trending
CME Focus