August 28, 2014
Pediatric Thyroid Cancer Patients Require Long-Term Follow-Up
the Endocrinology Advisor take:
Children with thyroid cancer are more likely to have advanced disease, and therefore, many receive postoperative radioactive iodine and require long-term surveillance, according to data published in Thyroid.
Treatment recommendations for children and adolescents with well-differentiated thyroid carcinoma vary, with little agreement on follow-up guidelines, although the disease is rare and has a favorable prognosis in this patient population.
To evaluate this further, researchers from the Washington University School of Medicine reviewed medical records for patients aged younger than 22 years treated at their institution. Of those treated from 1969 to 2009, 112 were included in their study.
The researchers evaluated progression-free survival (PFS) in the context of patient and tumor characteristics along with predictive value of whole-body radioactive iodine (I-131) scintigraphy in the follow-up setting.
At 20 and 30 years, overall survival was 100% and 94.4%, respectively. At 10, 20 and 30 years, PFS was 71%, 62% and 55%, respectively.
Male patients and younger patients generally presented with more advanced disease, but sex and age at diagnosis did not affect PFS risk. PFS was also unaffected by presence of vascular invasion, capsular extension, positive margins or soft tissue invasion.
Patients who immediately underwent postoperative I-131 had a mean time to recurrence of 3.8 years vs. 14.1 years in those who never received I-131 or received treatment in the salvage setting (P<.0001), according to the study data.
Whole-body I-131 scintigraphy was a strong predictor of decreased recurrence risk, particularly among those with three consecutive negative scans.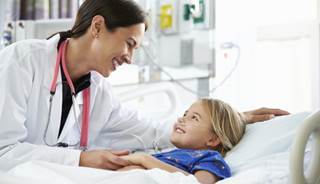 Pediatric Thyroid Cancer Patients Require Long-Term Follow-Up
Well-differentiated thyroid carcinoma in children and adolescents is a rare disease with favorable prognosis despite regional and distant metastasis at presentation in many patients. Treatment recommendations are varied and there is little consensus on follow-up guidelines for these patients.
Sign Up for Free e-Newsletters
Check out what's trending
CME Focus