August 31, 2016
Identifying Pediatric Thyroid Disease Often Falls on Primary Care Physicians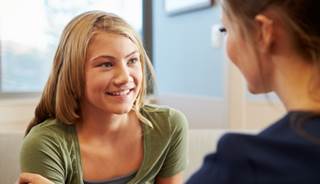 Primary care physicians are often the ones to identify thyroid disorders in pediatric patients.
(HealthDay News) — Primary care physicians play an important role in identifying thyroid disease in children and adolescents, according to a review published in JAMA Pediatrics.
Patrick Hanley, MD, from the Children's Hospital, Philadelphia, Pennsylvania, and colleagues conducted a systematic review of the literature to examine the presentation, evaluation, and treatment of thyroid disorders commonly seen in primary care practice. Based on their relevance to these topics, 83 publications were selected for inclusion.
The researchers found that the first health care professional responsible for initiating evaluation of a thyroid disorder in children and adolescents is often the primary care physician. Referral may be secondary to an abnormal newborn screening, or patients may be self-referred after a caregiver raises concerns, or based on routine well-child visit findings.
Knowledge of the signs and symptoms of hypothyroidism, hyperthyroidism, and thyroid nodules, and the general approach to evaluation and management will assist the primary care physician to complete an initial assessment, regardless of the path of referral, and will determine which patients would benefit from pediatric endocrinologist referral.
"Early identification and treatment of thyroid disease in children and adolescents is critical to optimize growth and development," the researchers wrote. "Regular communication between the primary care physician and the subspecialist is critical to optimize outcome because the majority of patients with thyroid disorders will require long-term to lifelong medical therapy and/or surveillance."
Reference