August 27, 2014
Oral Solution Improved Levothyroxine Absorption in Hypothyroidism
the Endocrinology Advisor take:
In patients with hypothyroidism, levothyroxine absorption may be increased when administered as an oral solution, as compared with tablets, research published in Endocrine Practice suggests.
Levothyroxine (LT4) tablet absorption can be affected by many factors, which then leads to elevated serum thyroid-stimulating hormone (TSH) levels and, consequently, higher LT4 requirements. A novel LT4 oral solution, however, has different pharmacokinetics and may be more beneficial in patients with hypothyroidism.
To compare the oral solution's performance with that of the tablet formulation, researchers retrospectively studied 53 patients on LT4 replacement therapy, which was consumed within 1 hour before breakfast, who switched from tablets to oral solution without altering the dose.
TSH levels before and from 60 to 90 days after the switch as well as clinical differences were included in the analysis.
TSH levels decreased significantly from a median of 3.04 mcIU/mL to 2.30 mcIU/mL (P=.0034) after the switch from LT4 tablets to LT4 oral solution. A TSH reduction was noted in 67.9% of patients, with a median post-switch to pre-switch ratio of 0.71, according to the data.
In those who experienced a decline in TSH, frequency of factors interfering with LT4 absorption was increased (P=.014). Median pre-switch to post-switch TSH ratios were 0.50 for those with interfering factors and 0.85 for those without interfering factors.
The levothyroxine absorption rate was higher with oral solution vs. levothyroxine tablets, particularly among those with factors interfering with absorption, and therefore may present a potential treatment solution in this patient population, the researchers concluded.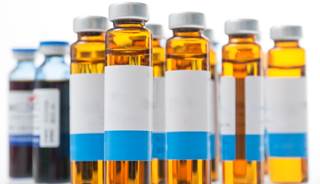 Oral Solution Improved Levothyroxine Absorption in Hypothyroidism
A great number of factors can interfere with levothyroxine (LT4) tablet absorption, leading to increased serum thyroid-stimulating hormone (TSH) levels and, accordingly, to increased LT4 requirements. LT4 oral solution (LT4-OS) is a novel formulation with a pharmacokinetics profile different from those of tablets. The aim of this study was to retrospectively evaluate whether serum TSH levels were decreased after switching adult hypothyroid patients from the tablet to LT-OS.
Sign Up for Free e-Newsletters
Check out what's trending
CME Focus