July 11, 2016
Nonalcoholic Fatty Liver Disease Risk Higher With Hypothyroidism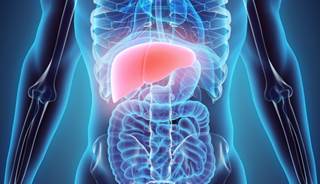 Lower thyroid function linked to increased NAFLD risk.
Compared with euthyroid participants, those with hypothyroidism appeared to have a higher risk for nonalcoholic fatty liver disease (NAFLD), according to a recent study.
The data, which were published in the Journal of Clinical Endocrinology & Metabolism, also link lower thyroid function to an increased risk for NAFLD with fibrosis.
"The current study is the first prospective population-based study to evaluate the relation between the whole spectrum of thyroid function and subsequent risk of NAFLD," the researchers wrote. "We demonstrated a negative linear association between free T4 (thyroxine) levels and incident NAFLD, even among euthyroid subjects, as well as a positive linear association for TSH (thyroid-stimulating hormone) levels."
Results from previous studies examining the relationship between thyroid function and NAFLD have ranged from showing a strong association to no association. Other studies limited to participants with normal thyroid function have also been contradictory, with some showing a link between free T4, TSH, both, or neither and NAFLD. However, small sample sizes and cross-sectional study design are likely responsible for these conflicting data, the researchers noted.
For this study, the researchers sought to prospectively examine the relationship between thyroid function and NAFLD using data from 9419 participants in the Rotterdam Study in the Netherlands. Mean age was 64.75 years and median follow-up was 10.04 years.
Results revealed an association between higher free T4 levels and lower risk for NAFLD after adjustment for age, sex, cohort, follow-up time, use of hypolipidemic drugs, and cardiovascular risk factors (odds ratio [OR], 0.42; 95% CI, 0.28-0.63). Data also demonstrated a link between higher TSH levels and an increased risk for clinically relevant fibrosis in NAFLD (OR, 1.49; 95% CI, 1.04-2.15). Additionally, hypothyroidism was tied to a 1.24-fold increased risk for NAFLD, as compared with euthyroidism (95% CI, 1.01-1.53).
Also, from hypothyroidism to hyperthyroidism, risk for NAFLD decreased (P-trend=.003).
The researchers noted that study limitations included their inability to restrict the analysis to participants with baseline fatty liver index values lower than 30 due to a large sample size reduction; the fact that ultrasonographic evaluation, as opposed to liver biopsy, served as the basis for NAFLD diagnosis; the availability of baseline thyroid levels only without information about variations over time; and the potential for residual confounding due to the observational study design.
"Our findings highlight the need for future investigations on preventive measures (eg, screening of thyroid function in NAFLD patients) and possible therapeutic interventions (eg, decision of treatment in subclinical thyroid dysfunction)," the researchers concluded.
Disclosures: The researchers report no conflicts of interest.
Reference