October 02, 2014
Liquid Levothyroxine May Prevent Malabsorption From Proton-Pump Inhibitors
the Endocrinology Advisor take:
Switching from levothyroxine tablets to an oral solution corrects impaired absorption caused by proton-pump inhibitors, according to a new study published in the Journal of Clinical Endocrinology & Metabolism.
Levothyroxine (LT4) is one of the most prescribed drugs worldwide and is most commonly administered as a tablet. An acid gastric pH is needed to dissolve the LT4 so that it can be absorbed in the intestine. Commonly-prescribed proton-pump inhibitors (PPIs), however, increase gastric pH, which interferes with LT4 dissolution.
LT4 has recently been released in the form of an oral solution, which is absorbed faster than the tablet because no dissolution is necessary. Researchers wanted to test whether this formulation was resistant to interference from PPI.
The study included 24 patients whose tablet LT4 absorption was impaired due to concomitant ingestion of PPI. To gauge LT4 absorption, researchers measured thyroid-stimulating hormone (TSH) values at baseline (before switching to liquid LT4), 8 weeks after the formulation change and again after another 8 weeks.
After switching, overall serum TSH levels were significantly lower post-switch compared with pre-switch levels. In 7.1% of the patients, LT4 absorption increased so much that their doses had to be lowered to prevent hyperthyroidism.
These results demonstrate that liquid LT4 absorption is unaffected by an increase in gastric pH due to PPI therapy, though additional studies are needed to verify whether liquid LT4 is also resistant to other drugs known to impair LT4 absorption.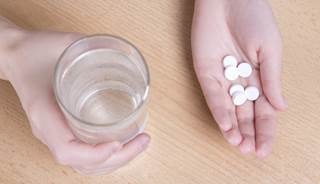 Liquid Levothyroxine May Prevent Malabsorption From Proton-Pump Inhibitors
The tablet formulation of levothyroxine requires gastric pH in order to dissolve and be appropriately absorbed by the intestine. Interference from other treatments such as proton-pump inhibitors, however, may prevent proper absorption.
Recently, new levothyroxine formulations have been developed, some of which are now available in some countries. One such new formulation is a liquid oral solution that does not require dissolution for absorption.
To determine whether the liquid oral solution prevents the malabsorption caused by proton-pump inhibitors, researchers evaluated outcomes in patients before or after switching from the tablet to liquid formulation.
Their results provide insight into the potential of novel levothyroxine formulations in improving patient outcomes.
Sign Up for Free e-Newsletters
Check out what's trending
CME Focus