July 22, 2016
Imaging After Thyroid Cancer Treatment May Not Improve Survival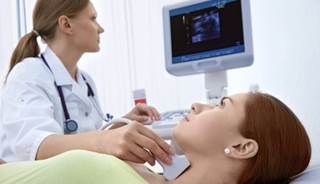 More imaging after treatment thyroid cancer does not necessarily translate to improved survival.
(HealthDay News) — More imaging tests after treatment does not always lead to an improvement in thyroid cancer patients' chances of survival, according to a study published in The BMJ.
Researchers from the University of Michigan looked at 28,220 patients in the United States who were diagnosed with thyroid cancer between 1998 and 2011. After treatment, 56.7% of the patients had at least 1 ultrasound, 23.9% had a radioiodine scan, and 14.9% had a positron emission tomography (PET) scan to monitor for signs of cancer recurrence.
Patients who underwent imaging were more likely to undergo further treatment, such as surgery, radioactive iodine treatment, or radiation therapy. The researchers found that use of neck ultrasounds or PET scans did not significantly affect disease-specific survival. Radioiodine scans were associated with an improved disease-specific survival.
"Over time, we have seen this marked increase in the use of imaging after primary treatment of thyroid cancer, despite the fact that the majority of our patients have low-risk cancer. For the most part, this imaging isn't affecting survival," study author Megan Haymart, MD, an assistant professor of medicine at the University of Michigan in Ann Arbor, said in a university news release.
Reference