December 20, 2014
Factors Contributing to High Levothyroxine Doses
the Endocrinology Advisor take:
A number of factors appear to contribute to higher-than-expected levothyroxine dosing requirements in patients with hypothyroidism, including medication issues and other health conditions.
In a study recently published in Thyroid, researchers noted that most patients with hypothyroidism do not require more than the expected dose of levothyroxine, which is based on the patient's weight. However, the potential reasons for higher levothyroxine requirements in a single cohort of patients with hypothyroidism have not yet been studied.
For this study, the researchers used the Grampian Automated Follow-Up Register (GAFUR), which follows about 17,500 patients with hypothyroidism. A search of the register in 2008 showed that 190 patients (1%) were taking more than 225 mcg of levothyroxine daily, which is twice the expected maximum daily requirements for a person weighing 80 kg.
The researchers sent questionnaires to 174 of the 190 patients to evaluate the cause for the high requirement of levothyroxine and to offer blood tests for endomysial, parietal cell (PCA) and thyroid peroxidase (TPO) antibodies. Medication details were obtained from primary care practices.
One hundred and twenty-five questionnaires were returned. Results indicated that mean levothyroxine dose was 248 mcg daily. In 26 patients, medication known to interfere with levothyroxine absorption was the cause for a higher-than-expected dosing requirement, and 21 patients reported compliance problems. Seven had positive anti-endomysial antibodies on initial screening, four of whom had new diagnoses of celiac disease. Twenty-seven patients had positive PCA.
In 2011, patients on interfering medications and those with celiac disease had a lower mean levothyroxine dose than in 2008.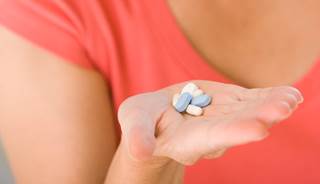 Factors Contributing to High Levothyroxine Doses
Background: Our aim was to determine and quantify the multiple factors contributing to high-dose levothyroxine requirements in a cohort of patients with hypothyroidism.
Methods: The Grampian Automated Follow-Up Register (GAFUR) monitors around 17,500 hypothyroid patients. In 2008, 190 (1%) patients took >225 μg of levothyroxine daily. A questionnaire was sent to 174 patients (16 were untraceable) to assess causes and to offer blood tests for endomysial, parietal cell (PCA), and thyroid peroxidase (TPO) autoantibodies. Primary care practices were contacted for medication details. All patients with positive endomysial autoantibodies were referred to a gastroenterologist. Thyroid function tests and levothyroxine doses were re-evaluated in 2011.
Sign Up for Free e-Newsletters
Check out what's trending
CME Focus