October 09, 2014
Primary Care Experiences Mostly Positive for Diabetes Patients
the Endocrinology Advisor take:
In England, primary care experiences for people with diabetes were reported to be at least as good as those for people without diabetes in most areas of care, according to a study published in Diabetes Care.
In both the U.S. and the U.K., developing primary care is an important health policy goal. In light of the increasing number of people with diabetes, understanding their experience in the primary care setting can be particularly useful when considering how to improve primary care.
Researchers looked at data from 906,578 patients who responded to the 2012 General Practice Patient Survey in England. Of these, 85,760 had diabetes. Patient experience was assessed using seven items that covered three areas of primary care: access, continuity and communication.
The researchers found that patients with diabetes were significantly more likely to report better experiences on six out of seven primary care items, as compared with those without diabetes, after adjusting for age, sex, ethnicity and socioeconomic status.
However, patients with diabetes and additional comorbid long-term conditions were more likely to report worse experiences, especially concerning access to primary care appointments.
These results suggest that improvements in primary care are needed for patients with diabetes and additional comorbid long-term conditions, especially in access to appointments and communications.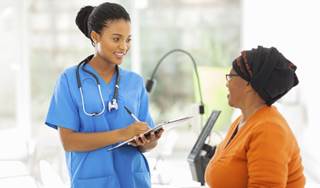 Primary Care Experiences Mostly Positive for Diabetes Patients
Improving primary care is a current health policy goal that is important in both the United States and the United Kingdom. Better understanding the patient experience is integral to identifying areas for improvement.
Also, as the incidence of diabetes grows, patients with the disease represent a significant portion of a primary care practice's patient population.
With this in mind, the researchers assessed the self-reported primary care experiences of both patients with and without diabetes. Their findings identify one potential area for improvement but overall show that patients with diabetes have mostly favorable primary care experiences.
Sign Up for Free e-Newsletters
Check out what's trending
CME Focus