October 24, 2014
Beloranib to Be Tested in Prader-Willi Syndrome
the Endocrinology Advisor take:
Treatments for Prader-Willi syndrome, a genetic disorder characterized by hyperphagia that can lead to obesity and other metabolic diseases, are in short supply. The disorder is a difficult one to manage and affects patients from birth to adulthood.
The FDA, however, has granted orphan drug status to a novel small-molecule therapy named beloranib for treatment of Prader-Willi syndrome.
Beloranib is a first-in-class injectable drug designed to decrease hunger while stimulating the use of stored fat as energy by inhibiting MetAP2, an enzyme that plays a role in the cellular process that controls metabolism.
Zafgen, beloranib's manufacturer, recently announced the initiation of its phase 3 trial in children and adults aged 12 years and older with Prader-Willi syndrome.
The Beloranib Efficacy Safety and Tolerability in PWS trial (bestPWS) is a double blind, placebo-controlled trial that will assess food-related behaviors, total body fat mass and safety of the drug.
Researchers plan to enroll 84 patients at 14 sites in the United States and randomly assign them to placebo or twice-weekly subcutaneous injections of beloranib 1.8 mg or 2.4 mg for 6 months. Completers can then enter a 6-month open label extension study in which all patients receive the drug.
Alterations in total body fat mass and hyperphagia-related behaviors will serve as the primary endpoints while lipid parameters and body weight will be examined as secondary endpoints. Quality of life for both patients and caregivers will also be assessed, according to the press release.
Initial data are expected in the fourth quarter of 2015, Zafgen's CEO said in the release.
According to an expert, the trial evaluating beloranib in Prader-Willi syndrome represents an important step toward finding a therapy for the disease, which is notoriously difficult to control, which will improve the lives of patients and caretakers.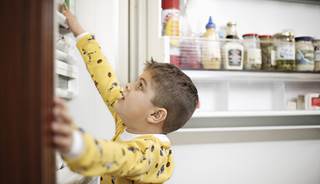 Beloranib to Be Tested in Prader-Willi Syndrome
Zafgen Inc., a biopharmaceutical company edicated to improving the health and well-being of patients affected by obesity and complex metabolic disorders has announced the initiation of a phase 3 trial of beloranib in Prader-Willi syndrome.
The trial will involve 84 patients and examine changes in hyperphagia and other metabolic parameters in children and adults with the genetic disease. Safety and efficacy will be assessed, as well as quality of life for patients and caregivers.
Sign Up for Free e-Newsletters
Check out what's trending
CME Focus