August 25, 2016
Higher-Than-Expected Rates of Obesity, Hypertension in Teen Athletes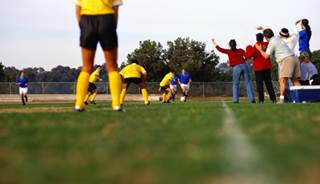 Student-athletes may not be much healthier than the general teen population.
(HealthDay News) — Student-athletes have similar rates of obesity and high blood pressure as non-athletes, according to research published in The Journal of Pediatrics.
Jill Kropa, MD, a sports medicine fellow at Thomas Jefferson University in Philadelphia during the study, and colleagues analyzed data from 2700 student-athletes in Philadelphia who received free preseason physicals over 4 years from the non-profit Athlete Health Organization.
Twenty percent of athletes were overweight; 24% were obese; and nearly 14.8% had higher-than-normal blood pressure. Those rates are similar to the general teen population, according to the study authors.
"Although the general presumption is that athletics and activity should help with weight and blood pressure control, our study suggests that student-athletes in Philadelphia are suffering from these conditions at the same alarming rate as their peers who do not sign up for school sports," Dr Kropa said in a university news release.
Reference