September 12, 2018
Higher Risk for Meningioma Linked to GH Treatment, Radiotherapy During Childhood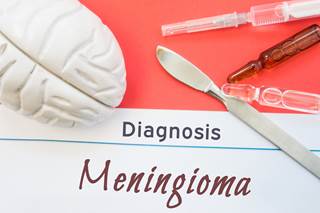 Early case reports have raised concern as to whether or not growth hormone therapy might increase cancer risks.
A very high relative risk of developing meningioma was observed in patients treated with recombinant growth hormone during childhood after cranial radiotherapy for a malignancy, reports a study published in the Journal of Clinical Endocrinology & Metabolism.
There has been concern that growth hormone treatment during childhood might increase the risk for subsequent meningioma, but research to date has been limited and inconsistent in its findings. Investigators examined meningioma risk in relation to growth hormone treatment in a cohort of 10,403 patients who were treated with recombinant growth hormone during childhood. During the follow-up period, 326 patients died, 175 patients were lost to follow-up, and 38 patients were diagnosed with meningioma; the remaining 9864 patients survived until the end of the follow-up period without meningioma.
The risk for meningioma was greatly elevated in this cohort overall (standardized incidence ratio, 75.4; 95% CI, 54.9-103.6), primarily as a late effect of having received radiotherapy for underlying malignancy among the high-risk participants (standardized incidence ratio, 658.4; 95% CI, 460.4-941.7). The risk for meningioma, however, was not significantly higher in patients who did not receive radiotherapy, nor was the risk significantly related to mean daily dose of growth hormone, duration of growth hormone treatment, or cumulative dose of growth hormone in patients who had been treated with radiotherapy.
"Clinically it is important to be aware of this risk when following-up such patients," wrote the investigators, adding that these data and "the previous literature on radiation effects indicate that the raised risk is mainly due to radiotherapy...[growth hormone] treatment has not augmented further the radiotherapy-related risk [for meningioma]."
Reference
Swerdlow AJ, Cooke R, Beckers D, et al. Risk of meningioma in European patients treated with growth hormone in childhood: results from the SAGhE cohort [published online August 17, 2018]. J Clin Endocrinol Metab. doi:10.1210/jc.2018-01133