November 17, 2017
Optimal Timing of Gastric Bypass and Cholecystectomy When Both Procedures Clinically Indicated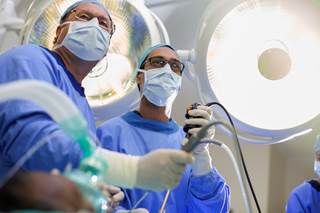 Study examined the effect of the order of cholecystectomy and Roux-en-Y gastric bypass on aggregate complication rates, reoperation rates, and operation times.
Cholecystectomy should be performed before, not during or after, Roux-en Y gastric bypass (RYGB) surgery when both procedures are clinically indicated, according to a study published in the British Journal of Surgery.1
Although there is a strong association between obesity, gallstones, and cholecystectomy,2-7 there is no clear evidence of the optimal sequence of RYGB and cholecystectomy when both procedures are recommended. Therefore, the researchers cross-matched 79,386 cholecystectomy events with 36,098 primary RYGB events from two Swedish databases to yield 1133 patients who underwent cholecystectomy after RYGB and 982 patients who underwent cholecystectomy before RYGB to compare complication rates, reoperation rates, and operation times.1
An unadjusted outcomes summary demonstrated that patients who had a cholecystectomy after RYGB rather than before experienced twice as many cholecystectomy complications, but that both groups had comparable RYGB complication rates.1
A multivariable analysis determined that there was a higher risk for aggregate 30-day postoperative complications (P =.002) and aggregate combined peroperative and 30-day postoperative complications (P =.006) when cholecystectomy is performed after RYGB compared to when it is performed before RYGB. There was a higher risk of reoperation when cholecystectomy was performed after RYGB compared with before RYGB (P =.034) when complicated gallstone disease was the indication for the cholecystectomy.
In addition, complications experienced after the first procedure independently increased the risk of complications for the subsequent procedure (P <.001). When cholecystectomy was performed at the same time as RYGB, there was an increased complication risk (P =.010) and it added 61.7 minutes (P <.001) to the surgery duration.
This study clearly demonstrated that cholecystectomy should be performed before RYGB when both procedures are indicated. However, as the investigators noted, "Although the study shows a statistically significant difference in complication rate depending on the order of cholecystectomy and RYGB, it does not explain the underlying cause."1
References
Wanjura V, Szabo E, Österberg J, Ottosson J, Enochsson L, Sandblom G. Morbidity of cholecystectomy and gastric bypass in a national database [published online October 18, 2017]. Br J Surg. doi:10.1002/bjs.10666
Torgerson JS, Lindroos AK, Näslund I, Peltonen M. Gallstones, gallbladder disease, and pancreatitis: cross-sectional and 2-year data from the Swedish Obese Subjects (SOS) and SOS reference studies. Am J Gastroenterol. 2003;98:1032-1041.
Katsika D, Tuvblad C, Einarsson C, Lichtenstein P, Marschall HU. Body mass index, alcohol, tobacco and symptomatic gallstone disease: a Swedish twin study. J Intern Med. 2007;262:581-587.
Sun H, Tang H, Jiang S, et al. Gender and metabolic differences of gallstone diseases. World J Gastroenterol. 2009;15:1886-1891.
Sodhi JS, Zargar SA, Khateeb S, et al. Prevalence of gallstone disease in patients with type 2 diabetes and the risk factors in North Indian population: a case control study. Indian J Gastroenterol. 2014;33:507-511.
Bonfrate L, Wang DQ, Garruti G, Portincasa P. Obesity and the risk and prognosis of gallstone disease and pancreatitis. Best Pract Res Clin Gastroenterol. 2014; 28:623-635.
Tucker JJ, Grim R, Bell T, Martin J, Ahuja V. Changing demographics in laparoscopic cholecystectomy performed in the United States: hospitalizations from 1998 to 2010. Am Surg. 2014; 80: 652-658.