June 17, 2016
Study Compares Weight Loss With Prescription Drugs for Obesity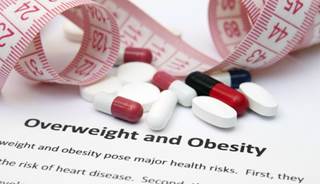 Some prescription weight-loss treatments were more effective than others.
(HealthDay News) — Any of the prescription weight-loss drugs on the market can help obese adults lose weight, although some appear to be more effective than others, according to research published in the Journal of the American Medical Association.
Siddharth Singh, MD, assistant clinical professor at the University of California, San Diego, and colleagues analyzed findings from 28 clinical trials testing the 5 approved drugs for obesity: phentermine-topiramate (Qsymia®, Vivus), liraglutide (Saxenda®, Novo Nordisk) and orlistat (Xenical®, Genentech; Alli®, GlaxoSmithKline), along with lorcaserin (Belviq®, Eisai) and naltrexone-bupropion (Contrave®, Takeda).
On average, the researchers found, each drug worked better than a placebo in helping obese adults lose weight over a year. Patients on phentermine-topiramate typically lost the most weight (8.8 kg) vs study patients taking placebo.
Patients taking orlistat or lorcaserin tended to lose the least amount (2.6 kg and 3.2 kg, respectively) vs placebo users. Naltrexone-bupropion and liraglutide patients typically lost 5 kg and 5.3 kg more, compared with placebo. Patients taking naltrexone-bupropion or liraglutide were the most likely to quit a trial due to side effects, compared with placebo users (odds ratios, 2.64 and 2.95, respectively).
"Among overweight or obese adults, orlistat, lorcaserin, naltrexone-bupropion, phentermine-topiramate, and liraglutide, compared with placebo, were each associated with achieving at least 5% weight loss at 52 weeks," the authors concluded.
Disclosures: Several authors disclosed financial ties to the pharmaceutical industry.
Reference