October 22, 2015
'Dispositional' Mindfulness May Reduce Obesity Risk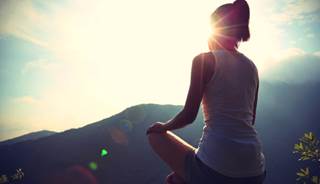 An awareness and attention to current feelings and thoughts may help decrease obesity risk.
(HealthDay News) — Self-awareness may help reduce the risk for obesity, according to research published in the International Journal of Behavioral Medicine.
Researchers evaluated 394 people in New England and found that those with higher levels of what is known as dispositional mindfulness — an awareness and attention to current feelings and thoughts — had less central adiposity.
They were also less likely to be obese than those with lower levels of such mindfulness.
Specifically, people with low levels of this type of self-awareness were 34% more likely to be obese. They also had a 448 g higher android fat mass than those with greater levels of self-awareness, the researchers found.
Dispositional mindfulness is not the same as meditation, the Brown University researchers explained.
"This is everyday mindfulness," study author Eric Loucks, PhD, an assistant professor of epidemiology at the Brown University School of Public Health in Providence, Rhode Island, said in a university news release. "The vast majority of these people are not meditating."
Reference