July 13, 2016
Risk for Early Childhood Obesity May Be Higher With Antibiotic Exposure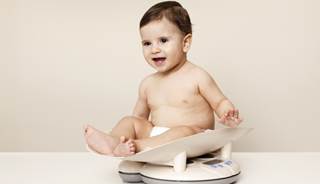 Children exposed to 4 courses of antibiotics by age 2 may be more likely to be obese by age 4.
(HealthDay News) — Antibiotic exposure is associated with increased odds of obesity among young children, according to a study published in the Gastroenterology.
Frank I. Scott, MD, from the University of Colorado Denver in Aurora, and colleagues performed a retrospective cohort study involving 21,714 children in the Health Improvement Network. Eligible subjects were registered within 3 months of birth; height and weight were recorded within 12 months of their 4th birthday.
The researchers found that 6.4% of the children were obese at age 4 years. The risk of obesity at age 4 was increased with antibiotic exposure (odds ratio [OR], 1.21; 95% CI, 1.07-1.38).1 There was an increase in odds ratios with repeated exposures (ORs for 1 to 2, 3 to 5, and 6 or more prescriptions: 1.07 [95% CI, 0.9-1.23], 1.41 [95% CI, 1.20-1.65], and 1.47 [95% CI, 1.19-1.82]).2 There was no correlation for antifungal agents with obesity (OR, 0.81; 95% CI, 0.59-1.11).2
"Administration of 3 or more courses of antibiotics before children reach an age of 2 years is associated with an increased risk of early childhood obesity," the researchers wrote.
A study previously published in JAMA Pediatrics yielded similar results, demonstrating a link between the use of broad-spectrum antibiotics and risk for childhood obesity by age 4.2
Reference
Scott FI, Horton DB, Mamtani R, et al. Administration of Antibiotics to Children Before Age 2 Years Increases Risk for Childhood Obesity. 2016;151(1):120-129. doi:10.1053/j.gastro.2016.03.006.