October 25, 2015
Mediterranean Diet Tied to Brain Volume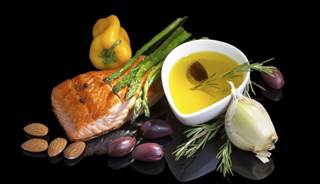 People who follow a diet similar to the Mediterranean diet may have larger brain volume.
(HealthDay News) — People aged older than 65 years who eat more fish, vegetables, fruit, grains, and olive oil may have a larger brain volume than those who do not follow a Mediterranean-like diet, according to research published in Neurology.
Yian Gu, PhD, an assistant professor of neuropsychology at Columbia University in New York City, and colleagues split 674 adults into two groups based on how closely their eating habits aligned with the Mediterranean diet. Their average age was 80 years.
All participants underwent magnetic resonance imaging of their brains to measure total brain volume and cortical thickness. They also completed questionnaires about their food choices and eating patterns.
The researchers found that total brain volume, total gray matter volume, and total white matter volume were larger in the Mediterranean Diet group. The investigators also found that eating more fish and less meat was specifically associated with positive effects on brain structure.
"Among older adults, [Mediterranean diet] adherence was associated with less brain atrophy, with an effect similar to five years of aging," the researchers wrote. "Higher fish and lower meat intake might be the two key food elements that contribute to the benefits of [Mediterranean diet] on brain structure."
Reference