September 08, 2016
More People Following Gluten-Free Diet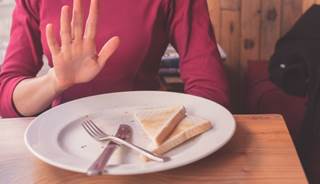 An increasing number of people are adopting a gluten-free diet, regardless of whether or not they have celiac disease.
(HealthDay News -- The number of Americans following a gluten-free diet tripled between 2009 and 2014, but diagnoses of celiac disease remained stable during that same period, according to a research letter published online September 6, 2016, in JAMA Internal Medicine.
Hyun-seok Kim, MD, MPH, an internal medicine resident at the Rutgers New Jersey Medical School, Newark, New Jersey, and colleagues reviewed data from the US National Health and Nutrition Examination Surveys. The team identified 22 278 survey participants — aged 6 and older — who had blood tests for celiac disease. The survey volunteers were asked whether they had been diagnosed with celiac disease or were following a gluten-free diet.
Based on their analysis, the researchers estimated there are around 1.76 million people with celiac disease in the United States. About 2.7 million more people adhere to a gluten-free diet even though they do not have celiac disease. Around a half percent of survey participants (0.52%) reported being on a gluten-free diet without celiac disease in 2009 to 2010. By 2013 to 2014, that number was 1.69%.
"There are many reasons, beyond celiac disease, that may account for the increasing popularity of gluten-free diets," the researchers wrote. "First, the public perception is that gluten-free diets are healthier and may provide benefits to nonspecific gastrointestinal symptoms. Second, gluten-free products were difficult to obtain in the past but now are more widely available at most large supermarkets and online. Third, there is also an increasing number of individuals with self-diagnosed gluten sensitivity but not the typical enteropathic or serologic features of celiac disease who have improved gastrointestinal health after avoidance of gluten-containing products."
Reference