September 28, 2015
Fidgeting May Mitigate Effects of Prolonged Sitting in Women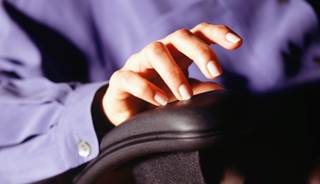 Fidgeting may counteract negative effects of a sedentary lifestyle.
(HealthDay News) — Women who sit for long periods of time but are either moderately or very fidgety have a mortality risk similar to that seen in more active women, according to research published in the American Journal of Preventive Medicine.
Gareth Hagger-Johnson, PhD, of the University of Leeds in the United Kingdom, and colleagues conducted a study involving 14,245 British women aged 35 to 69 years. Each participant answered questions regarding their health behaviors, chronic disease, 24-hour activity, physical activity levels and fidgeting.
As expected, the researchers found that women who did a lot of sitting and were only "slightly" fidgety had a higher risk for premature death than women who were more physically active and did not sit as much. However, women who did a lot of sitting but were either moderately or very fidgety had a risk for early death that was similar to that of more active women.
"Our results support the suggestion that it's best to avoid sitting still for long periods of time, and even fidgeting may offer enough of a break to make a difference," Hagger-Johnson said in a university news release.
Reference