March 11, 2016
Chemical Exposure Decreased Among Teens After Change in Cosmetics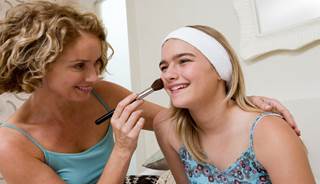 After using chemical-free products, hormone-disrupting chemicals fell between 27% and 45%.
(HealthDay News) — Switching to chemical-free cosmetics and shampoos quickly lowers levels of hormone-disrupting chemicals in the bodies of adolescent girls, according to a study published in Environmental Health Perspectives.
Chemicals widely used in personal care products — including phthalates, parabens, triclosan and oxybenzone —
have been shown to interfere with the hormone system in animals, the researchers explained. These chemicals are found in many fragrances, cosmetics, hair products, soaps, and sunscreens.
The study involved 100 Hispanic teens who used make-up, shampoo, and lotions that were labeled free of chemicals for 3 days. After this short break from their regular products, levels of the hormone-disrupting chemicals in the girls' urine fell between 27% and 45%, the researchers found.
"Because women are the primary consumers of many personal care products, they may be disproportionately exposed to these chemicals," lead author Kim Harley, PhD, of the Center for Environmental Research and Children's Health at the University of California, Berkeley, said in a university news release. "Teen girls may be at particular risk since it's a time of rapid reproductive development, and research has suggested that they use more personal care products per day than the average adult woman."
Reference