September 13, 2016
Modifying Discretionary Food Intake Had Modest Impact on Diet Quality of Australians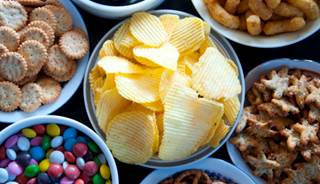 Eating fewer discretionary foods may modestly impact diet.
Researchers have reported that reformulating or reducing discretionary foods produced a small-to-moderate impact on the diet quality of the overall Australian population and among those who self-report ever being told they had diabetes.
"The modest overall impact of individual strategies to reduce discretionary foods was somewhat anticipated given that we were looking across the whole of a population rather than just the high consumers," Tom Wycherley, PhD, study investigator from the University of South Australia, Adelaide, Australia, told Endocrinology Advisor.
The study was presented at the European Association for the Study of Diabetes (EASD) 2016 Annual Meeting.
According to study background, discretionary foods, defined as foods or beverages high in saturated fat and added sugar or salt, contribute to more than one-third of the energy intake of Australians and displace core foods such as fruit, vegetables, dairy, lean meats, and whole grains.
"Therefore, [discretionary foods] are a logical target for improving peoples' dietary intake and reducing the prevalence and burden of obesity related cardiometabolic disease," Dr Wycherley said. "Many strategies to reduce discretionary foods have been proposed, trialed, and shown to be effective for improving dietary intake in smaller scale randomized controlled studies. However, it is less clear what impact these strategies would have if they were successfully implemented at a wider-scale level (eg, the population or a large subpopulation)."
This led Dr Wycherley and colleagues to analyze food and nutrient data from 12 153 people who provided information to the 2011 to 2013 Australian Health Survey.
Data indicated that compared with the original diet, a 25% reduction in daily intake of all discretionary foods resulted in a 9% reduction of the mean per person daily energy intake. Replacement of 25% of the discretionary foods with core foods would necessitate an 8.3% increase in core foods, leading to a 3.6% lower energy intake, 2.3% greater protein intake, 20.6% lower intake of added sugars, and a 3.9% lower sodium intake compared with the original diet.
In addition, substitution of water/noncaloric beverages for all water-based sugar- sweetened beverages led to a 2.9% reduction in energy and a 27.3% reduction in added sugar, whereas lowering added sugar by 25% in discretionary foods within the food groups "biscuits" (sweet and savory) and "cakes/muffins/scones/cake-type desserts" decreased total energy by only 0.4%.
Among participants who self-reported ever being told they had diabetes, they demonstrated a lower intake of discretionary foods compared with the overall Australian population (percent of energy, 32.4% vs 35.8%), and had comparable response magnitudes for the modeled scenarios.
"To effectively improve peoples' dietary intake by targeting discretionary foods, it is likely that a combination of strategies will have the best outcome," Dr Wycherley concluded. "In general, the most effective use of time and resources is to target strategies at subpopulations or individuals with relatively high intakes of discretionary foods or their constituents."
He added that it is important to remember there is no one-size-fits-all solution to improving someone's dietary intake. "Strategies need to be sustainable and in many cases will require a collaborative effort between food industry, nutritionists and public health advocates to implement on a broad scale," he said.
Disclosures: Dr Wycherley reports no relevant financial disclosures.
For more coverage of EASD 2016, click here.
Reference
Wycherley TP, Grieger JA, Johnson BJ, Riley MD, Golley RK. Poster 702. Nutritional impact of discrete strategies to reformulate or reduce discretionary food choices in the diet of the Australian population. Presented at: EASD 2016 Annual Meeting; September 12-16, 2016; Munich, Germany.