December 10, 2015
Warfarin Plus Sulfonylureas May Raise Risk for Hospitalization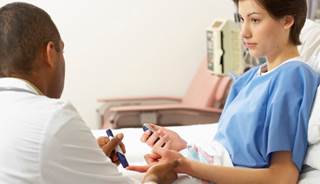 Risk for hospitalization may be greater for patients taking warfarin along with a sulfonylurea.
(HealthDay News) -— Taking warfarin at the same time as glipizide or glimepiride may increase the risk for hospitalization, according to a study published in The BMJ.
Researchers analyzed data from 465 918 Medicare patients. They found that those who took warfarin along with the sulfonylureas glipizide or glimepiride had a 22% increased risk for an emergency department visit or hospitalization for hypoglycemia.
The risk was especially high for men aged 65 to 74. Of the approximately 100 000 older Americans hospitalized each year for medication-related problems, 40% are for reactions to warfarin or diabetes drugs, the researchers said.
There is no need for pharmacists to change patient instructions, the researchers added.
"What it does require is for pharmacists and other clinicians to be more vigilant when a sulfonylurea is added to a regimen that includes warfarin, as well as when a patient who is taking both has a change in their medical status," study coauthor Bradley Williams, PharmD, a professor in the School of Pharmacy and School of Gerontology at the University of Southern California in Los Angeles, said in a university news release.
Reference