September 11, 2015
Diabetic Retinopathy Screening May Be Delayed in Children With Type 1 Diabetes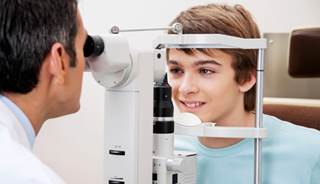 Physicians may delay screening for diabetic retinopathy in children with type 1 diabetes.
(HealthDay News) — Most children with type 1 diabetes don't need a yearly exam for diabetic retinopathy until age 15, or five years after their diabetes diagnosis, according to research published in Ophthalmology.
"Many of our young patients with diabetes diligently come in every year for screenings that consistently show no sign of the disease," study coauthor Gil Binenbaum, MD, attending surgeon in the ophthalmology division at The Children's Hospital of Philadelphia, said in a journal news release.
"Of course, that's good news for them, and it is very important to have annual eye exams once the risk of vision loss develops. But, is it worth the burden on the family and the health care system if evidence shows that diabetic retinopathy doesn't reach a treatable stage until years later?"
Some medical groups currently recommend that screening start at age 9, or 3 to 5 years after a type 1 diabetes diagnosis. But, this study found no evidence of diabetic retinopathy in 370 children who had at least one screening. And, that was true regardless of how long they had diabetes.
It was also true whether their blood glucose levels were well controlled or not, the research showed. The children were all 18 or younger, and had type 1 or type 2 diabetes.
"Diabetic retinopathy is rare in children regardless of duration and control of diabetes mellitus," the researchers wrote. "On the basis of our study and literature review, screening examinations for type 1 diabetes could begin at age 15 years or at 5 years after the diagnosis of [diabetes mellitus], whichever occurs later, unless the child is judged by the endocrinologist as being at unusually high risk. Other ocular complications are identifiable through existing amblyopia screening methods."
Reference