August 11, 2016
Role of the Gut Microbiome in Diabetes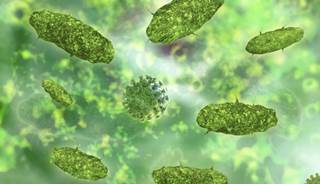 The gut microbiome may increase understanding of the pathogenesis of type 1 and type 2 diabetes.
With the rapid expansion of research into the role of the gut microbiome in all aspects of health, there is accumulating evidence linking it with both type 1 and type 2 diabetes. Investigations are currently underway into a wide array of topics relevant to the disease, and recent technological advances have made microbiome analysis more efficient and cost-effective.
"The intestinal microbiome represents one of the largest areas of contact of the human body with non-human substances," Emory Hsu, MD, endocrinology fellow at Emory University School of Medicine, Atlanta, Georgia, told Endocrinology Advisor. "It is affected in large part by environmental exposure, diet, medications, maternal transmission, and systemic disease."
In a paper published in BMC Medicine in 2013, Spanish researchers presented the first study demonstrating an association between type 1 diabetes and significant alterations in the composition of gut microbiota, which the authors said could be associated with participants' glycemic levels.1 "Moreover, the quantity of bacteria essential to maintain gut integrity was significantly lower in the children with diabetes than the healthy children," they reported.
Another 2013 study found similar differences in adult patients with prediabetes and newly diagnosed type 2 diabetes vs those with normal glucose tolerance, and further showed a significant association between microbiota diversity and fasting plasma glucose and C-reactive protein.2
Subsequent studies have begun to shed light on the temporal relationship between diabetes pathogenesis and the microbiome, including a trial comparing veterans with normal glucose tolerance to those with prediabetes. The findings suggest "a role for microbiota in early stages of diabetes development" and that "specific taxa are associated with glycemic stability over time," according to the paper.3
Additionally, a twin study published in 2016 by researchers at Harvard Medical School, Massachusetts Institute of Technology, and Seoul National University in South Korea revealed altered function and composition of the gut microbiome in participants with biomarkers of subclinical type 2 diabetes, suggesting a role for the microbiome prior to disease onset. The authors also found "functional changes reflecting a response to oxidative stress comparable to that previously observed in chronic type 2 diabetes and inflammatory bowel diseases," they wrote.4
Among other systems and processes, microbiota has effects on the immune system. "Strong evidence is now accumulating that the microbiome alters inflammatory markers and T cell subset regulation," noted Dr Hsu. This shift in immune response is relevant to type 2 diabetes and may be of particular interest for type 1 diabetes. Previous research indicates that while the microbiome of healthy infants becomes more stable and diverse as they approach toddlerhood, the microbiome of those at high risk of autoimmunity become less stable and diverse, which could result in distinct differences in the autoimmune microbiome between healthy children and those with type 1 diabetes.5