February 20, 2015
Imaging Technique May Identify Pancreatic Inflammation in Type 1 Diabetes
the Endocrinology Advisor take:
A noninvasive technique based on magnetic resonance imaging (MRI) may allow clinicians to see pancreatic inflammation underlying type 1 diabetes, according to data from a pilot study published in the Proceedings of the National Academy of Sciences.
In the study, the researchers evaluated the possibility of imaging inflammation in the pancreas of participants using ferumoxytol, which is a coated iron nanoparticle that is approved by the FDA as an iron replacement therapy, and MRI. Ferumoxytol leaks out of blood vessels in areas of inflammation and is taken up by macrophages, thereby highlighting areas of inflammation in the pancreas.
Currently, tests for autoantibodies can show whether a person's immune system has attacked the pancreas at some point, but these antibodies are not the best indicators for predicting development of full-blown diabetes.
"Many people have genetic variants that put them at risk for type 1 diabetes," study co-lead author Jason Gaglia, MD, MMSc, an assistant investigator in the Section of Immunobiololgy at Joslin Diabetes Center, said in a press release. "Some develop autoimmunity, but only a small number develop clinical disease."
Further, Dr. Gaglia and colleagues noted that development of treatments is limited due to the fact that long lead times are necessary in order to determine whether a therapy is having an effect.
"If you want to study in people an immunodulatory agent right now, for diabetes it takes years," Dr. Gaglia said, explaining that end measurements for whether such therapies work relate directly to pancreatic function changes, which may not become apparent until much later. Imaging, however, may allow researchers to "have an answer in a matter of months."
In the study, Dr. Gaglia and colleagues enrolled 11 patients with newly diagnosed type 1 diabetes and evidence of antibodies against the pancreas, as well as 10 control patients with no sign or family history of diabetes.
The researchers adapted MRI mapping algorithms originally developed for whole brain scanning to visualize inflammation across the whole pancreas. The ferumoxtyol dose was about one-quarter of the dose used for therapeutic iron replacement, according to Dr. Gaglia.
The MRI-ferumoxytol images revealed clear evidence of ferumoxytol accumulation in the pancreas in the group with type 1 diabetes, which suggested ongoing inflammation, whereas images from the control group did not.
Additionally, Dr. Gaglia said that the images from the type 1 diabetes group showed that "inflammation was not uniform across the entire pancreas. There was also a large amount of variation between individuals, which aligns with what you see clinically. That's never been shown in living humans before."
The researchers also noted that this imaging technique could help identify which patients with autoimmunity will likely develop full-blown diabetes and which patients would benefit from different treatments.
At the moment, however, Dr. Gaglia emphasized that the imaging technique should only be used for research.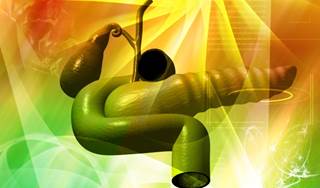 Imaging Technique May Identify Pancreatic Inflammation in Type 1 Diabetes
We describe a readily exportable method for noninvasive imaging of the pancreatic inflammation underlying type-1 diabetes (T1D), based on MRI of the clinically approved magnetic nanoparticle ferumoxytol. This approach, which reflects nanoparticle uptake by macrophages in the inflamed pancreatic lesion, has been validated rigorously in mouse T1D models.
Sign Up for Free e-Newsletters
Check out what's trending
CME Focus