August 21, 2016
Preterm Infants May Have Monogenic Forms of Diabetes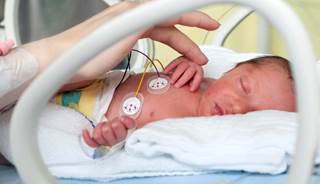 Patients with monogenic forms of diabetes can be born preterm.
(HealthDay News) — Monogenic forms of diabetes can occur in preterm infants, according to a study published in Pediatrics.
Rachel E.J. Besser, MBBS, PhD, from the University of Exeter Medical School in the United Kingdom, and colleagues studied 750 patients with diabetes diagnosed before 6 months of age. The genetic etiology and clinical characteristics were compared for 146 preterm patients born before 37 weeks and 604 patients born at 37 weeks or later.
The researchers found that 66% of preterm infants had a genetic etiology, compared with 83% of those born at 37 weeks or later (P<.0001). Preterm infants more commonly had chromosome 6q24 imprinting abnormalities (27% vs 12%; P=.0001) and GATA6 mutations (9% vs 2%; P=.003) compared to term infants, while mutations in KCNJ11 were less common in preterm infants (21% vs 34%; P=.008).
Diagnosis was later for preterm patients with an identified mutation than for those without an identified mutation (median, 35 vs 31 weeks; P<.0001). There were no differences noted in other clinical characteristics for preterm patients with and without an identified mutation.
"Patients with neonatal diabetes due to a monogenic etiology can be born preterm, especially those with 6q24 abnormalities or GATA6 mutations," the researchers wrote. "Prematurity should not prevent referral for genetic testing."
Reference