August 11, 2016
Preclinical Study Links Renal Denervation to Increased Insulin Sensitivity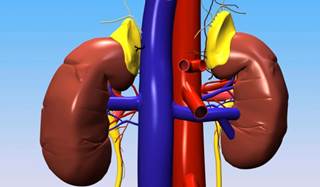 Study in obese canines suggests renal denervation may improve insulin sensitivity.
(HealthDay News) -- Inhibiting the sympathetic nervous system (SNS) by renal denervation (RDN) improves insulin sensitivity in obese canines, according to a study published in the August issue of Diabetes.
Malini S. Iyer, PhD, from the Cedars-Sinai Diabetes and Obesity Research Institute in Los Angeles, and colleagues measured insulin sensitivity using a euglycemic hyperinsulinemic clamp before and after 6 weeks of a high-fat diet (w6-HFD) and either RDN (HFD+RDN) or sham surgery (HFD+Sham).
The researchers found that HFD induced insulin resistance in the liver at w6-HFD in sham and in HFD+RDN. The insulin resistance persisted in sham animals, but RDN completely normalized hepatic insulin sensitivity in fat-fed dogs; reduction in hepatic gluconeogenic genes including G6Pase, PEPCK, and FOXO1 was observed. Hepatic gluconeogenesis was down-regulated by RDN, primarily by up-regulation of liver-X-receptor via the natriuretic peptide pathway.
"In conclusion, bilateral RDN completely normalizes hepatic insulin sensitivity in obese canines," the researchers wrote. "These preclinical data implicate a novel mechanistic role for the renal nerves in the regulation of insulin action specifically at the level of the liver and show that the renal nerves constitute a putative new therapeutic target to counteract insulin resistance."
Reference