July 26, 2016
Putting the Pedal to the Metal: Igniting and Sustaining Adherence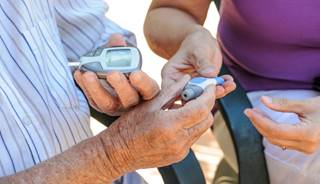 Patients with diabetes can benefit from encouragement from clinicians, spouses, and friends.
Nonadherence to medications and lifestyle changes for those with chronic illness has been estimated to be about 50%.1 If the key to successfully starting or sustaining adherence stems from within the patient, not an external factor, such as the well-meaning entreaties of spouses, significant others, physicians, or other health care professionals, what tools or techniques can we offer our patients to facilitate this?
I would like to build off my last post about preventing diabetes or its complications in those already diagnosed with this disease to further delve into the topic of adherence — both its challenges and its opportunities.
I have long been fascinated by the gap between what patients — or, indeed, all people in general — are capable of and what we will actually do. We can have access to the best medications, the most capable and compassionate physicians, nurses, certified diabetes educators (CDEs), and other diabetes care team professionals, but all too often, patients are not making or sustaining changes. These are transformations that they know can make a tremendous, positive impact.
I was thinking about this as I read about the FREEDOM-2 trial results that were presented at the recent 76th Scientific Sessions of the American Diabetes Association. This subcutaneously implanted delivery device is quite impressive; the size of a matchstick, it can hold 6 months of exenatide. What this product promises is putting an end to those worries about adherence, whether it is a patient forgetting to take a medication, not recalling whether he or she may have already taken the medication earlier in the day, or lacking the motivation to take medication consistently. Intellectually, patients know that regularly taking their medication, having that salad instead of that candy bar, and working out regularly despite the siren call of the TV (or whatever other temptation is there) is crucial to living well with diabetes.
That may well be the key. Intellectually.
But we know that we are swayed not just cold, rational, logical arguments. So what can we offer to our patients?
1. Enlist technology to help.
First, I would like to start with a disclaimer: I know that no matter what the app or how cool it is, the technology itself will not confer increased motivation.
There are myriad options, more than 1100 apps actually, ranging from glucose logbook apps to fitness trackers to those offering detailed nutrition information, to assist patients. Patients can enjoy greater ease and convenience because of these electronic resources, and can gain education and encouragement. Check out some of the following articles for more information and app reviews:

2. Stand on the shoulders of supporters.
"If I have seen further, it is by standing on the shoulders of Giants." – Sir Issac Newton
Technology certainly supplements but does not supplant people. Whether it is a physician or his or her team — including a dietitian, pharmacist, CDE, nurse, or the patient's support group — spouse, significant other, friend, or peer coach, it takes a village to help patients with diabetes. Patients may need a caregiver to completely help them with their diabetes care or they may just need an occasional visit or phone call to get encouragement from one of their teammates, such as those listed above. They can reach out using technological tools like Skype to assist. These support individuals are indispensable additions to the health care team and patient relationship.
3. View diabetes self-management as a process.
Most of us have been conditioned to focus only on attaining the big goal — reaching target HbA1c or losing a certain number of pounds — that we miss out on the daily actions and decisions that may seem small but actually add up over the course of weeks, months, and years. Testing SMBGs, working out, and so on help patients get to goal, but we do not recognize the cumulative impact of these committed, regular actions. I remind patients that achieving great quality of life with diabetes is possible, yet the journey does not stop at attaining goal. There is no point where you can hit cruise control and just go on autopilot. As with many things in life that are important and valuable, you cannot get complacent or, on the other hand, become discouraged. You are either moving forward or you are backsliding. This does not mean that the path of progress is linear; everyone will experience setbacks along the way. How patients react to them helps determine whether they give up or whether they keep going. Realizing that it is about striving for consistency rather than perfection is the key. Such patients will learn from the experience and tweak their approach as needed.
I encourage you to seek out these and other conferences, websites, and experts for more information and ideas you can apply.
Adherence is a team sport.
Edward C. Chao, DO, practices at the VA San Diego Healthcare System and is associate clinical professor of medicine at the University of California, San Diego.
Reference
Haynes RB, Taylor DW, Sackett DL: Compliance in health care. Baltimore, MD, Johns Hopkins University Press; 1979.