August 29, 2017
Neonatal Hypoglycemia Rates in Glyburide vs Insulin Treatment for Gestational Diabetes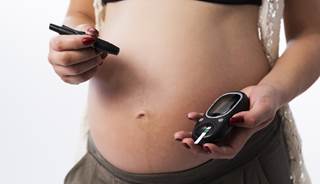 No differences in short-term maternal outcomes were noted between the different treatments.
Glyburide and insulin are equally effective for treating women with gestational diabetes, according to a meta-analysis published in PLoS ONE.1 However, incidence of neonatal hypoglycemia was greater among infants whose mothers used glyburide vs insulin.
Researchers from Shanghai Jiaotong University School of Medicine Xinhua Hospital in Shanghai, China, reviewed 3 large databases and examined 10 randomized controlled trials that met study inclusion criteria. Of all women with gestational diabetes (n=1194), 575 used glyburide and 619 used insulin. Maternal glycemic control was not significantly different between the 2 treatment groups.
Data analysis revealed a greater risk for any neonatal hypoglycemia after treatment with glyburide than with insulin (risk ratio [RR], 1.89; 95% CI, 1.26-2.82; P =.002). Sensitivity analysis confirmed the robustness of the result (RR, 2.29; 95% CI, 1.49-3.54; P =.0002). Neonatal hypoglycemia (blood glucose <40 mg/dL) occurred more often in the glyburide group than in the insulin group (RR, 1.89; 95% CI, 1.26-2.82; P =.002), although neither difference reached statistical significance.
"[T]he use of glyburide in pregnancy for women with [gestational diabetes] appears to be as effective as the use of insulin," the researchers concluded, "but neonatal hypoglycemia should be monitored. Additionally, the potential risk of glyburide to the fetus is unclear, especially over the long-term, and should be reassessed in the future."
Reference
Song R, Chen L, Chen Y, et al. Comparison of glyburide and insulin in the management of gestational diabetes: A meta-analysis [published online August 3, 2017]. PLoS One. doi:10.1371/journal.pone/0182488