February 08, 2015
Protein May Play Role in Gestational Diabetes Development
the Endocrinology Advisor take:
A newly discovered protein may play a role in the development of gestational diabetes, according to data published in Nature Communications.
Until now, researchers had identified four enzymes that catalyze energy production from food intake called hexokinases. This new study, however, indicates that there may be a fifth player on the hexokinase team, a protein dubbed HKDC1.
"This swims against the past 40 years of research and what we thought we knew," Tim Reddy, PhD, a senior author of the study and assistant professor of biostatistics and bioinformatics at Duke University, said in a press release. "Hexokinases are critical to basically all of our energy production. Finding a fifth one opens the door to more study into how we metabolize sugar, as well as genetic links to metabolic disorders."
In their study, Dr. Reddy and colleagues reported that HKDC1 may be a genetic predictor for the development of hyperglycemia in women during pregnancy. Gestational hyperglycemia and gestational diabetes can be harmful to both the fetus and the mother, according to previous studies, and currently there is no method to screen a pregnant woman for her risk for hyperglycemia. Generally, women are diagnosed after they have already developed diabetes.
"We know that these children may be more likely to be born large and be subject to health impacts down the road, such as obesity and diabetes," Dr. Reddy said.
All humans have HKDC1, according to the study, but women with less of this gene are not able to metabolize glucose as well during pregnancy.
"The discovery of this gene creates a path forward to better predicting a woman's risk," Dr. Reddy said. "Knowing that there is this new hexokinase at play could also give us more information on how to inhibit or activate it, and anything we can to do disrupt the cycle would be an important advance to stem the epidemic of diabetes we see today."
Further investigation into the enzyme could also create potential targets for new therapies for metabolic conditions, William Lowe, MD, a senior author of the study and professor of medicine at Northwestern University Feinberg School of Medicine.
"This study shows the benefit of large-scale genetic studies as they begin to shed light on new molecules that are important for metabolism," Dr. Lowe said in the release.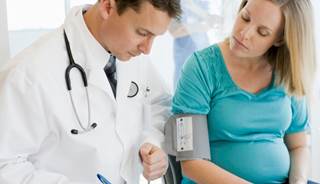 Protein May Play Role in Gestational Diabetes Development
Maternal ​glucose levels during pregnancy impact the developing fetus, affecting metabolic health both early and later on in life. Both genetic and environmental factors influence maternal metabolism, but little is known about the genetic mechanisms that alter ​glucose metabolism during pregnancy. Here, we report that haplotypes previously associated with gestational hyperglycaemia in the third trimester disrupt regulatory element activity and reduce expression of the nearby ​HKDC1 gene.
Sign Up for Free e-Newsletters
Check out what's trending
CME Focus