July 12, 2016
Severe Diabetic Retinopathy Tied to Depressive Symptoms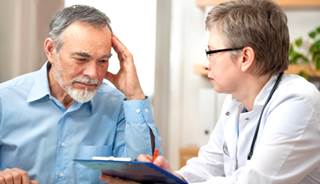 Researchers investigate link between severe diabetic retinopathy and depressive symptoms.
(HealthDay News) — Severe nonproliferative diabetic retinopathy or proliferative diabetic retinopathy, but not diabetic macular edema, is associated with depressive symptoms, according to a study published in JAMA Ophthalmology.
Gwyneth Rees, PhD, from the University of Melbourne in Australia, and colleagues conducted a cross-sectional study in a tertiary eye hospital involving 519 patients with diabetes (median duration of diabetes, 13 years). They assessed how the severity of diabetic retinopathy and diabetic macular edema correlated with symptoms of depression and anxiety.
In raw scores, 15.4% of patients screened positive for depressive symptoms and 22.7% screened positive for symptoms of anxiety. The researchers found that there was an independent correlation between severe nonproliferative and proliferative diabetic retinopathy and greater depressive symptoms after adjustment for sociodemographic factors and clinical characteristics, including visual acuity.
Overall, 60.6% of the unique variance in depressive symptoms was due to a history of depression or anxiety, while severe nonproliferative and proliferative diabetic retinopathy accounted for 19.1% of the total explained variance of depressive symptoms.
There was no correlation for diabetic macular edema with depressive symptoms. There was no correlation observed between diabetic retinopathy and symptoms of anxiety.
"The severity of diabetic retinopathy could be an indicator to prompt monitoring of depression in at-risk individuals with diabetes," the researchers wrote. "Further work is required to replicate these findings and determine the clinical significance of the association."
Reference